US expo to give fresh impetus to coproductions with China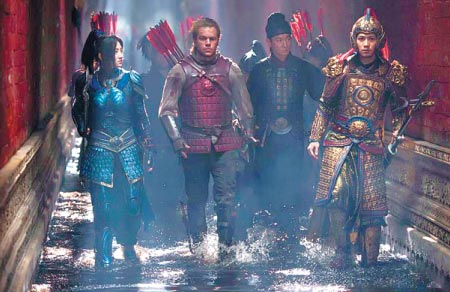 The Great Wall, starring American and Chinese actors and actresses, makes a positive contribution to Sino-US film cooperation. [Photo provided to China Daily]
The fourth annual US-China Film & TV Industry Expo will be held in Los Angeles in October, it was announced on Wednesday at the ongoing Beijing International Film Festival.
Activities like a film students' exhibition of their works, technical workshops, film funding seminars, and television industry panel discussions will be held over Oct 19-20, and a forum on US-China film industry cooperation will be organized on Oct 30.
Coproduced films will be screened on Oct 30 and 31.
According to Bianca Chen, initiator of the expo, the event will not only explore possible story ideas for cinematic coproduction but financing as well.
The Gold Screen Awards-for coproduced films as well as individuals and companies making special contributions to coproduction-will also be given out during the expo.
Chen says more than 100 scripts for Sino-US film coproductions were incubated since last year's expo, and eight of them will be made into films that will be released globally.
A sci-fi work and an animated movie are scheduled to be released in late 2019 or early 2020.
Miao Xiaotian, president of China Film Coproduction Corp, says: "As a blockbuster with a big budget, The Great Wall made a positive contribution to film coproduction between China and the US.
"But I don't think blockbusters will be the dominant genre of coproductions in the future. The cooperation will also offer opportunities for diverse genres, especially middle- and low-budget productions."
Miao says that 71 coproduction projects were approved by China's film authorities in 2016, and he feels that the number for this year will match the figure.
"I feel that China has fewer restrictions on film coproduction, compared with some European countries," he says.
"As long as a film has major Chinese elements, rather than being a purely foreign story, it is likely to be approved."
And given the annual quota of foreign films screened in the Chinese mainland, he feels coproduction is a way to bring overseas cinema to China.
Related: