In film that premiered Monday, girl dances to beat of a different drum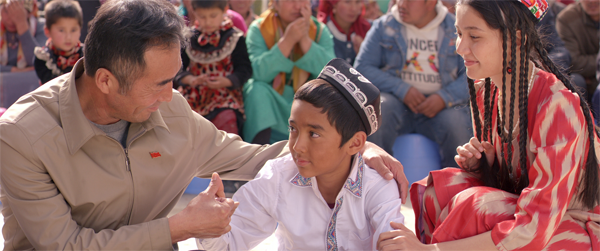 [Photo provided to China Daily]
Actress Ayipaly Uguli, 19, plays the leading role of Ayiguli.
"This is my first movie and I was very nervous when I played the role of Ayiguli, a beautiful young woman who is determined about her dream. I spent over 20 days living with local villagers near the Taklamakan Desert, which was an inspiring experience for my acting," said Uguli, who was born and grew up in Urumqi, the capital of Xinjiang. Now, she is in her first year as an acting student at Zhejiang University of Media and Communications in Hangzhou, Zhejiang province.
Director Yakov said the film also displays folk dance, music and instruments of the Uygur ethnic group in Xinjiang, such as different types of drums.
Yakov also directed Genuine Love, a 2014 film based on the story of Anipa Alimahong, a Uygur ethnic woman, now 78, who adopted 19 children from six ethnic groups, namely Kazak, Hui, Han, Uygur, Tartar and Uzbek. In 2009, she won the annual Touching China Award from China Central Television, recognizing her as one of the country's 10 most inspiring role models.