Homemade heavy dredger makes debut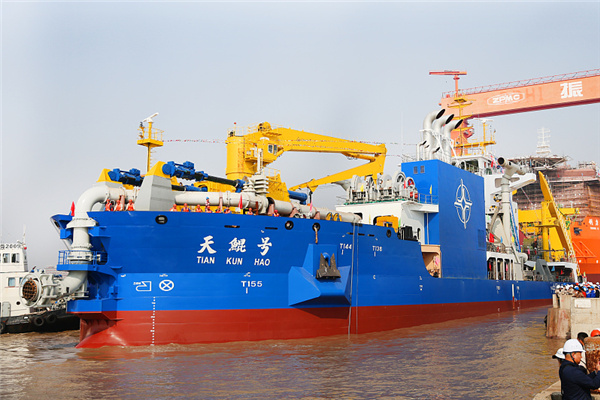 Tiankun, the first heavy cutter-section dredger self-developed by China, makes its debut Friday. [Photo/VCG]
The launch of Asia's largest cutter-section dredger ushers in a new era for China's independent development of dredging equipment.
A newly-built cutter-section dredger, named Tiankun, was launched Friday in Qidong, East China's Jiangsu province, reported China Youth Daily.
The 140-meter-long ship is able to dredge 6,000 cubic meters per hour. It became the largest of its kind in Asia, and has the world's top long-distance transportation capability.
Equipped with an advanced positioning system, Tiankun is capable of operating at rough sea conditions and can navigate at any sea waters around the globe.
It is the first heavy cutter-section dredger developed and built by China on its own, breaking the monopoly of a few developed countries, said Wang Jian, the deputy chief engineer of Tianjin Dredging, the developer of the ship.
Before 2006, China imported most of its dredgers, and the launch of Tiankun has ushered in a new page of development for the country's dredging equipment, said Zhong Wenwei, the chairman of Tianjin Dredging.
The development and research of Tiankun took five years and it was built by Shanghai Zhenhua Heavy Industry. The dredger is set to be delivered in 2018.