Fishing ban imposed earlier this year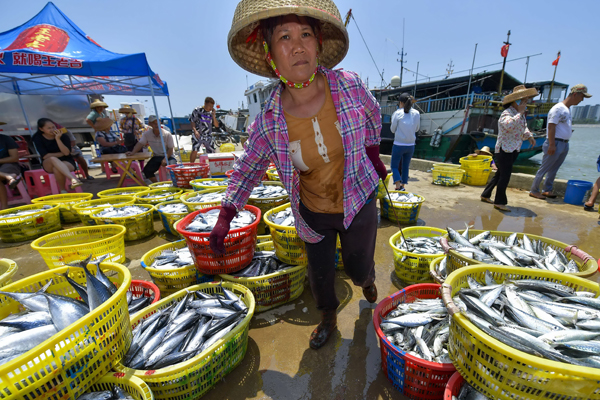 Fishermen unload the last catch of the season in Qionghai, Hainan province, on Monday. The fishing season in the South China Sea ended at noon on Monday. Luo Yunfei / China News Service
An annual fishing ban was introduced nationwide on Monday, weeks earlier than previous years for some regions, with the aim of better protecting fisheries and the environment.
In the past, the off-season began on a staggered schedule - different days for different areas - with a June 1 deadline. It was moved up mainly because the spawning season of most fish has begun earlier, owing to the decay of fishery resources and global warming, said Zhang Xianliang, director of the Ministry of Agriculture's Bureau of Fisheries.
Zhang was speaking at the launch of a national campaign to crack down on fishing violators on Monday in Xiangshan county of Ningbo, Zhejiang province.
"A prolonged off-season will give the ocean more time to recover," he said.
If the fishing off-season had not been changed to an earlier date, a large number of the newborn fish would be caught by fishermen before the usual moratorium started, and that would harm the fishery, said Zhang Shengrong, deputy director of Xiangshan county's Ocean and Fishery Bureau.
"Moreover, if the fishing ban began on different days in different areas, it would leave a loophole for illegal fishing across different fishing regions," he said.
The minimum duration of the fishing off-season in China, the world's largest country in terms of fish catch, and with the most fishing vessels and fishermen, will last three months this year. Fishing will be resumed in different regions depending on how the fry grow. For example, it will be resumed in the East China Sea on Aug 1 and in the Yellow Sea on Sept 1.
For the first time, auxiliary vessels, which transport the catches and provide support for the fishing vessels, must obey the off-season as well to prevent covert fishing.
Zhang said all the vessels registered in Xiangshan had returned to port as required by Monday morning and all the fishermen had gone ashore and handed over their fishing nets.
"Only those vessels specializing in the research of aquatic resources are allowed to set off during the season," he said.
zhouwenting@chinadaily.com.cn