Sanlitun street feels a crunch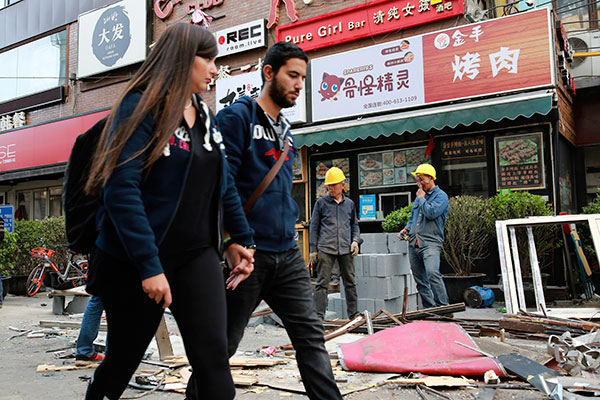 Two visitors walk along the Tonglihou Street in Beijing's Sanlitun area as urban management workers dismantle illegal buildings along the street on Monday.[Feng Yongbing/China Daily]
Illegal extensions of buildings ripped down; result is a matter of opinion
The face-lift of a section of the Sanlitun area of Beijing has begun, with demolitions raising mixed feelings among foreigners and locals as a decades-old bar street will likely disappear.
Heavy equipment was busy on Monday knocking down dozens of illegal building additions that stretched from residential buildings on Tonglihou Street between the well-known Taikoo Li shopping malls.
Beijing has been targeting illegal constructions since the beginning of this year. Illegally constructed extensions associated with 1,800 units in Chaoyang district, 5,000 in Fengtai district and 2,300 in Dongcheng district will be removed, and missing walls, windows and other elements will be restored according to their original designs.
Tonglihou Street, home to a variety of nail salons, foot massage parlors, bars and restaurants of many varieties, has become increasingly popular in recent decades because of an influx of foreigners and diplomatic personnel.
Frank Hansen from Denmark said he felt the special charm of Sanlitun will be gone when all the extended rooms have been removed. He used to have weekend gatherings with his friends on the bar street and said they would probably not come here after the demolition.
Gao Ziheng, a student at Sanlitun No 1 Middle School, said: "Fewer places will be available to have something to eat after school." However, he added, it is good to see a cleaner environment after all the illegal additions have been torn down.
Tian Hengsen, a security guard who works at the Taikoo Li shopping mall, said the street is packed with people on weekend nights, which he thought disturbs local residents.
A staff member of the Sanlitun Street Management Office, which oversees construction in the area, said the demolition began on Monday morning. He did not want to be identified because he is not authorized to talk to the media.
An urban patrol officer at the scene said the demolitions were expected to finish on Monday.
The rent is high in the area-50,000 yuan ($7,260) per square meter annually, according to the owner of a nearby restaurant that serves meat and vegetables stewed on sticks in a hot and spicy soup, a popular street food in Beijing.
The owner, surnamed Zhang, said businesses on the street have been hugely successful, and the impact on business is hard to predict. She said other shops may lose clients when some of the popular businesses are gone.
The demolitions come amid a string of similar operations across Beijing, which the city government says is aimed at removing safety risks, as many homeowners have knocked out walls to add rental space for shopkeepers.
On April 17, the same management office demolished illegally built additions on the ground floor of the Taipingzhuang Nanli residential area.
The ground floors of apartment blocks in Sanlitun are often rented out to stores, bars and restaurants, as the area is a popular destination for tourists, expats and locals.
Illegal structural work, such as removing interior walls, creating unauthorized rooftop areas or extending buildings, is common in the area, authorities said.
Zhang Yue contributed to this story.