Foreign field will forever be home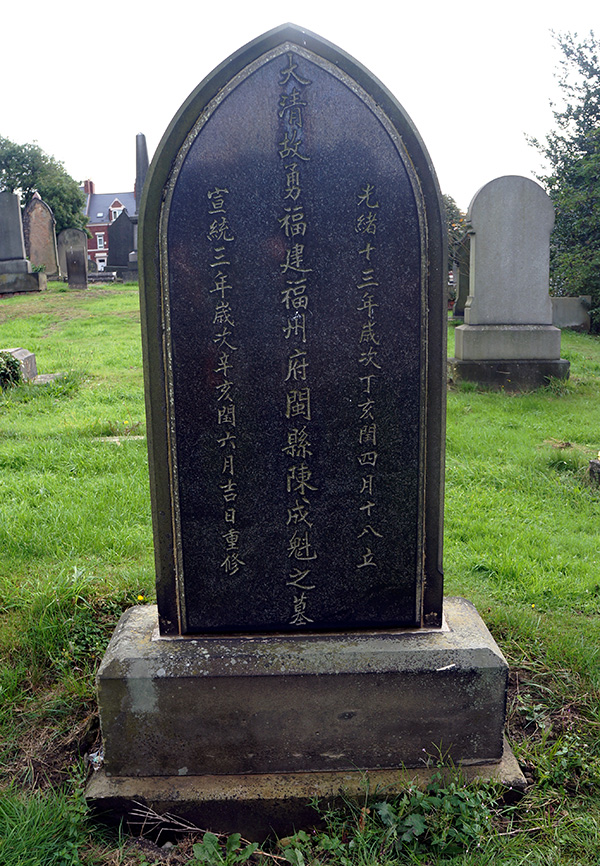 The grave of a sailor buried in the 1880s in Newcastle-upon-Tyne, England. CHINA DAILY
The China Foundation for Cultural Heritage Conservation and the Newcastle city government have now approved the survey, budget and repair plan. Given the current rate at which money is being donated, the repairs will begin in April and will be concluded by August, said Li Xiaojie, the foundation's president.
"The five sailors can rest peacefully knowing that even after all these years, people back home still care about them," he said. "This is a project full of human warmth and love."
Repairing history
In September, Zhang Rong, the chief engineer for the tombstone restoration project, and his team, which is employed by Li's foundation, flew to Newcastle to clean, inspect the graves, and discuss the restoration plans with local experts and city officials.
Initially, Zhang, who is also deputy chief engineer of the Beijing Guowenyan Cultural Heritage Conservation Center, thought the work would be easy, but he quickly realized that his optimism was misplaced.
"It turned out to be the trickiest project I have ever worked on. The tombstones are immoveable historical relics left by Chinese people in a foreign country," he said, adding that because of their rarity, the graves are managed by the local cemetery and protected under British law.
"The repairs must adhere to the protection laws and standards of both countries," Zhang said. "China has no precedent in dealing with such artifacts, so we have to start everything from scratch."
The foundation and the Newcastle city government held extensive negotiations to ensure the project would run smoothly. "We went through each item line by line, trying to find common ground and iron out any differences," Zhang said. "It was worth the time because we learned so much during the process, especially about improving our standards."
For example, in China, repairing broken tombstones only requires the stones to be glued back together. In Britain, however, in addition to gluing, steel reinforcing rods have to be inserted too, "so the tombstones won't break and fall on visitors", Zhang said.
Simon Richmond, owner of Joseph Richmond & Son Memorials, a family-run team of stonemasons in Newcastle, said certain sections of the graves need to be replaced because they are badly damaged.