HIV-positive young man is hosting talk show to educate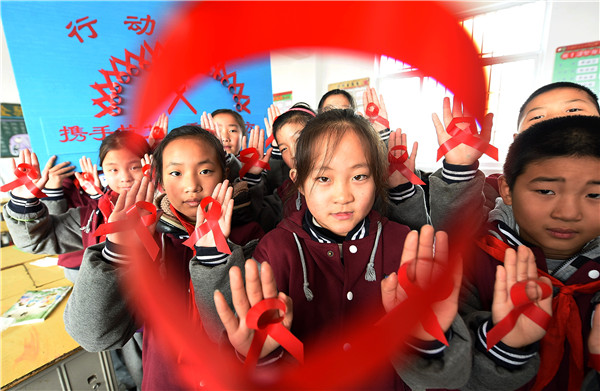 Elementary school students in Donghai county in Jiangsu province crafted red ribbons as part of an HIV/AIDS prevention campaign on Tuesday. ZHANG ZHENGYOU / FOR CHINA DAILY
The 2016 World AIDS Day on Thursday will be a bit different for Liu Shi, a 24-year-old gay man, who is HIV-positive.
He will host a talk show about his own experience and HIV/AIDS prevention in a temporary glass room set up in a plaza in Sanlitun, a bustling commercial district in Beijing. The show will also be available live-streaming online.
"I feel a bit upset now, since there are usually lots of people in that area and they can see me through the glass," said Liu Shi, who works full time at a private nonprofit organization that provides support for AIDS patients in the capital.
Liu learned of his HIV-positive status in 2012, and since graduating from an occupational school has worked for NGOs to combat HIV/AIDS stereotypes and discrimination.
"Someone like me in the community has to stand out, providing a voice for patients," he said on Wednesday.
Wu Zunyou, head of the National Center for AIDS and Sexually Transmitted Disease Control and Prevention, co-organizer of the Sanlitun event, said Liu's bravery will deliver the message to protect yourself against HIV, particularly to young people.
As of September, there were 654,000 people living with HIV/AIDS in China, and 201,000 deaths, according to the center.
The center has alerted the public to increasing HIV transmissions among the young. In the first nine months of the year, 2,321 students aged 15 to 24 tested positive for HIV, a number 4.1 times greater than in 2010.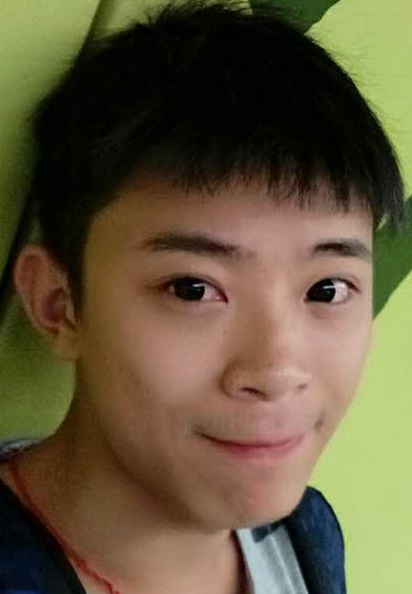 LIU SHI
"At a sexually active age, they are aware of HIV/AIDS but their limited knowledge of disease prevention has failed to provide enough protection," Wu said.
While most new transmissions are among gay males, Wu also urged school authorities to be more open and provide more information to both male and female students.
Liu said that for a long time, HIV/AIDS education in the country highlighted only the fear and desperation surrounding the condition, which "failed to deliver the key preventive messages to young men like myself."
On Thursday, Liu said besides sharing such messages, his appearance would have another positive effect.
"They can see me, an AIDS patient who's been in treatment for four years, still young, energetic, healthy and with great hope for the future," he said.
Liu said he also will talk about fighting discrimination. "Despite growing social tolerance, AIDS related discrimination still runs rampant here."
Having been denied medical treatment before, Liu said he still hides his status when seeing a doctor.
Discrimination makes people avoid HIV testing and timely treatment, and that undermines the nation's overall AIDS battle, Wu said.
Liu said: "I hope I will be nicely treated tomorrow. Social norms cannot be changed overnight. But when I am old, I can say I've tried."