A life dedicated to writing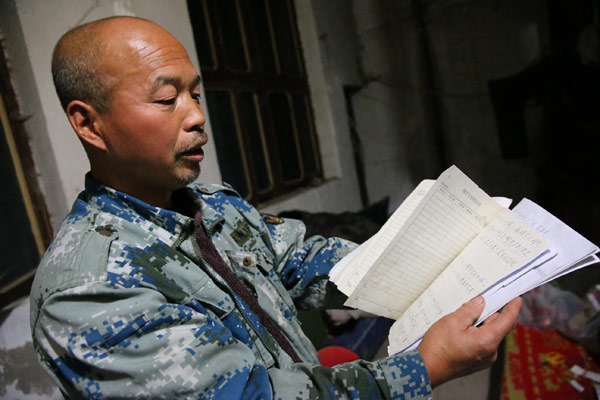 Migrant worker Li Jian with the manuscript of his third book at the room he has rented in Xi'an, Shaanxi province. [Photo by Deng Xiaowei/China Daily]
Migrant worker, author strives to share his stories with both rich and poor
Li Jian, a 52-year-old migrant worker in Xian, Shaanxi province, has not let poverty and hardship deter him from pursuing his dream of becoming a writer.
Earlier this month, he completed his third book Dream Home, which details the dedication and love for life of his fellow villagers.
Made up of more than 60,000 Chinese characters, spread across 20 chapters of prose and poetry, the new book waxes lyrical about the locust trees, stone mills and ancestral temple in Li's hometown.
It was written on 240 pages of odd-sized paper, some of which was leftover scrap covered in engineering and construction terms on the back.
"I collected the paper while I was working," Li explained.
Born in 1964 to a poor farming family in a small village in Wugong county, central Shaanxi, Li learned to read and write during his time in the People's Liberation Army from 1982 to 1984.
"I did not receive much education when I was young and got most of my reading and writing skills in the barracks," Li said.
After retiring from the army, he returned to life as a farmer and began compiling his village's history, which he considers the first book he ever wrote.
It was completed in 1986 and so aroused his interest in the craft that he soon began working on his second book, Memoirs Of A Veteran, which he finished in 1991.
In order to earn more money, Li left home in 2006 to take up a job as a migrant worker in Xi'an, where he began to write his third book.
"During the past 10 years in the city, I have worked as a street cleaner and construction worker. I still work on a construction site with a monthly salary of more than 2,000 yuan ($293)," he said.
He has rented a crude 12-square-meter room in a village to the north of the city with four single beds that is musty, wet and cold.