Online not the best bet for deals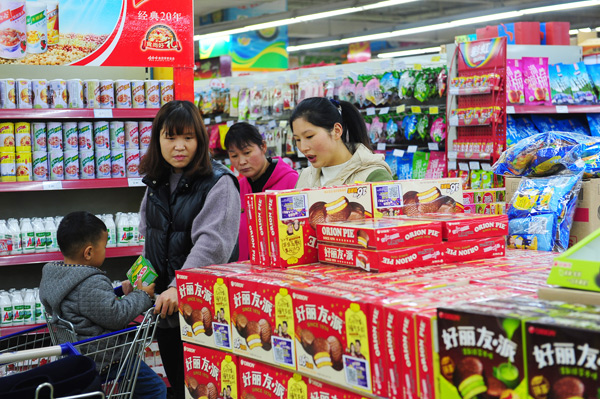 Buyers check out food products at a supermarket in Fuyang, Anhui province. [Photo by Wang Biao/For China Daily]
Consumers who are anticipating cheaper prices for products during the upcoming Nov 11 shopping festival may not necessarily find them online, a new study said.
According to the 2017 China shopping report jointly released by market consultancies Bain & Co and Kantar Worldpanel, the online prices of many product categories are higher than those offered in physical stores, with the biggest price differences seen for toothbrushes, hair conditioners and kitchen cleansing supplies.
For example in the toothbrush market, the biggest player in the offline marketplace is Colgate with the average price coming in at 5 yuan ($0.75) each. But the online best-seller is the Oral-B electric toothbrush, sold at 82 yuan each on average, while the second best-seller online is the Philips electric toothbrush sold at 191 yuan each, according to the report.
Jason Yu, general manager of Kantar Worldpanel for Greater China, said the price differences can be largely attributed to the fact that relatively more high-end products are purchased online.
"While Chinese consumers used to shop online for low prices in the past, it has been increasingly noticeable in the recent five years that people prefer products that indicate a better lifestyle or entail more added value," he said.
As a result, the sales of imported goods, especially food products and personal care products, have risen significantly, he said.
"To cater to this trend, leading e-commerce players such as Alibaba and JD.com have upgraded their offerings on their platforms to meet the demand of the rising middle class and younger consumers," he said.
Bruno Lannes, partner of Bain Greater China consumer products practice, added that the price differences between online and offline distribution channels are partly the result of brands' strategies. Some brands have promoted and sold imported and exclusive products with premium prices only online. Such products are not available in brick-and-mortar shops.
For consumers who are looking for real bargains online, milk, baby formula, chocolate, baby diapers and chewing gums still offer much lower prices than physical stores, according to the report.
As to the shopping carnivals such as the upcoming Singles Day, their function is more like an image-building opportunity for brands, said Yu.
"Although online sales are still prevalent, promotion prices have remained stable. E-commerce platforms have redefined the shopping carnivals for brands to convey their key information rather than stimulating sales," he said.