Big A-share investors sell stocks to ESOPs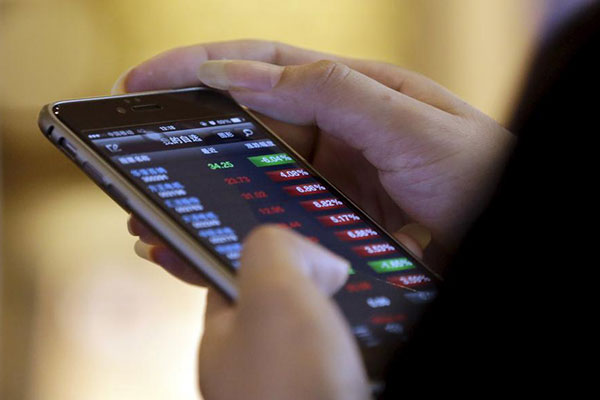 A man checks share prices on his mobile phone while waiting for his coffee at a Starbucks branch in Beijing July 16, 2015.[Photo/Agencies]
Large shareholders in a number of listed A-share companies have sold down some of their holdings to employee stock ownership plans or ESOPs in the past week, in a move that comes after China's securities authorities recently strengthened regulations about the behavior of major shareholders.
On June 1, Shenzhen-listed pharmaceutical group Shenzhen Salubris Pharmaceutical Co Ltd announced its ESOP bought 209.2 million shares in a block trade worth 598 million yuan ($87.98 million), or about 2 percent of company's total capital.
A source, who did not want to be named, estimated that more than 10 companies have done or will do the same.
Analysts said that selling shares to employees over the long term may help companies retain staff and boost their performances by giving them more incentive to work hard, keep the shares, and benefit from the growth of the group.
However, they added, that in short term the move could be seen as a way of avoiding supervision.
The China Securities Regulatory Commission launched a new policy on May 27, requiring major shareholders other than senior managers-including those holding 5 percent or more of the capital-to disclose detailed information on all aspects of large share trades.
A source with knowledge of the block trading said big shareholders in a handful of companies had reduced their holdings, or plan to do so, on the heels of the regulator's new policy by selling to ESOPs.
The source added that as a result, the investors' position would be lower than 5 percent, and so not subject to the regulation. This requires them to disclose detailed information 15 days in advance of a block trade, and buyers must not transfer the shares for six months.
"Some plan to reduce their holdings to 4.99 percent so they can sell without information disclosure and the buyers can trade the stocks freely afterward," the source said.
"This is a way to increase liquidity. After all, few players in the block trade market would hold stocks for that long."
Analysts say that ESOPs have become the buyers because they can absorb large amounts of stock, and purchases by ESOPs are often seen as a positive indicator of a company's prospects.
Under an ESOP, a company's shares are purchased through a dedicated trust fund and allocated to full-time employees. The regulator's policy for ESOPs prescribes that total shareholdings by staff in an ownership plan can't exceed 10 percent of a company's share capital. No individual employee's holding can exceed 1 percent, and the lockup period is 12 months.
"Small investors are likely to criticize the big shareholders in a company when they sell to an ESOP immediately after the CSRC launched the policy, saying it is way to evade supervision," said Tian Hui, an analyst with Datong Securities.
"After all, the selling could have negative impact on the share price in short-term, and it is quite a sensitive timing to reduce holdings."