Vacation rental players increase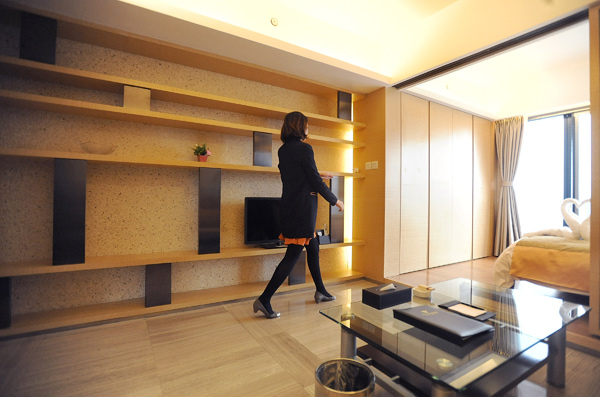 A sales clerk from Tujia shows the interior design and layout of a short-term home in Chengdu. WANG TIANZHI / FOR CHINA DAILY
As a market with the largest number of outbound travelers in the world, China is increasingly attractive for global short-term accommodation rental platforms.
For instance, HomeAway.com Inc, a vacation rental service owned by travel search company Expedia Inc, is hoping to leverage local expertise in China through cooperation with Tujia, the Chinese mainland's leading short-term rental website.
HomeAway wants to grow its footprint in China's fast-growing travel market. Its partnership with Tujia targets China's outbound travelers.
Tujia translates each HomeAway listing into Chinese, and serves as an intermediary to help Chinese travelers book homes in countries where they are not familiar with the local languages.
"With more than 2 million unique places to stay around the world, we're bringing an incredible amount of inventory to Chinese tourists. Through the tie-up, HomeAway and Tujia help each other grow business and distribute inventory," said Jeff Hurst, chief commercial officer of HomeAway.
With more than 400,000 listings, Tujia accounts for more than 30 percent of the domestic market, according to a report by Jinlu Consulting.
Meanwhile, global market leader Airbnb Inc has aggressively rolled out a series of plans recently, including doubling of its investment in China and a new Chinese name Aibiying (which means "welcome each other with love"), signaling the unicorn's determination to succeed in the Chinese market.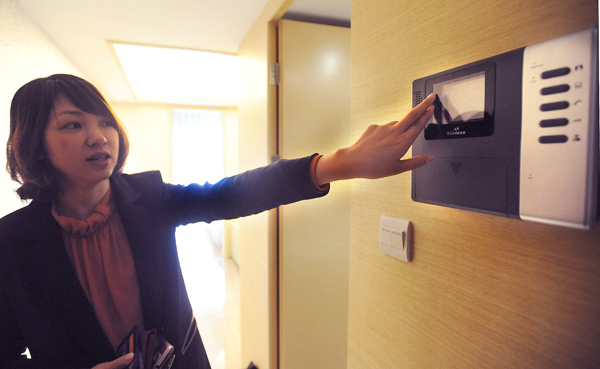 An employee from Tujia shows how the security monitor works at their short-term homes at an international residential community in Chengdu, Sichuan province. WANG TIANZHI / FOR CHINA DAILY
To be sure, Airbnb has only 80,000 listings in the domestic market as of now and 3 million listings all over the world.
Thus, like HomeAway, its competitive advantage lies in the overseas market.
Hurst differentiates HomeAway from Airbnb by classifying them into separate market segments.
"HomeAway is about family and group travel," said Hurst. "But some of our competitors are probably more about short-stay, single travel. They started as providers of airbeds, couches and shared spaces. The two models overlap, but I think we've different target customers."
A February report by online consulting firm iResearch Consulting Group said the turnover of China's home stay market was 8.8 billion yuan ($1.3 billion) in 2016, up 106 percent from the previous year, and that is expected to grow by around 50 percent this year.
The report said major platforms with more users and a wider range of services will continue to attract more landlords and users, gradually dominating the market, while at the other hand, some platforms will serve a particular group of customers. The two segments will coexist in the future.
China has been the world's largest outbound tourism market since 2012, according to data from the United Nations World Tourism Organization.
The China Tourism Academy said outbound trips reached 122 million 2016, up 4 percent year-on-year.