Xiongan key variable in Beijing's city planning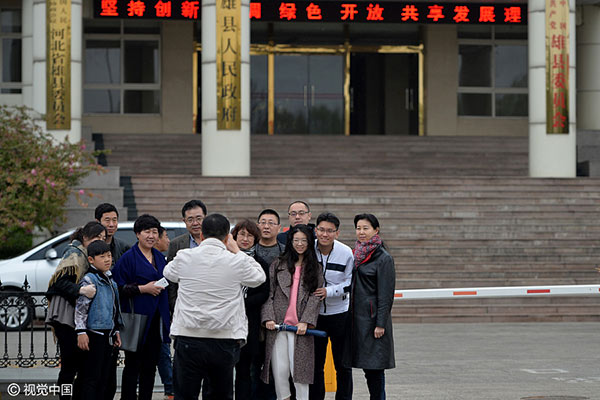 Tourists pose for a photograph in front of the Xiongxian government building in North China's Hebei province, April 8, 2017. The building has become a new attraction after an announcement came that the county would be part of the Xiongan New Area. [Photo/VCG]
Xiongan New Area has been included in Beijing's 2016-2030 city planning and GDP and tax generated in this area might be divided between Beijing and Hebei province, the 21st Century Business Herald reported.
According to the newspaper, "one key world-city cluster" and "one area" were added to the draft sent for discussion at a plenary session of the Beijing municipal committee of the Communist Party of China on Wednesday. It added that the "one area" referred to Xiongan New Area, citing multiple analysts.
China Academy of Social Sciences researcher Niu Fengrui told the newspaper that Xiongan New Area has been included because it will accept non-capital functions unloaded from Beijing, adding that Xiongan will be a key variable in Beijing's city planning.
Beijing Party chief Guo Jinlong said deeply coordinated development is needed and Beijing would view Xiongan's development as its "own business".
Chen Yao, secretary of China Academy of Regional Economy, said both Xiongan New Area and Beijing need to develop high-tech sectors so that both can collaborate.
It is high time to develop Hebei province and there might be special policies regarding land and talent to boost Xiongan's development, Yang Lianyun, former vice-dean of Hebei Academy of Social Sciences said.
How to allocate GDP and tax generated in Xiongan New Area might need to be decided by the central government, said Wang Hui, a professor with Capital University of Economics and Business.