HK event shows Chinese collectors' rising power in art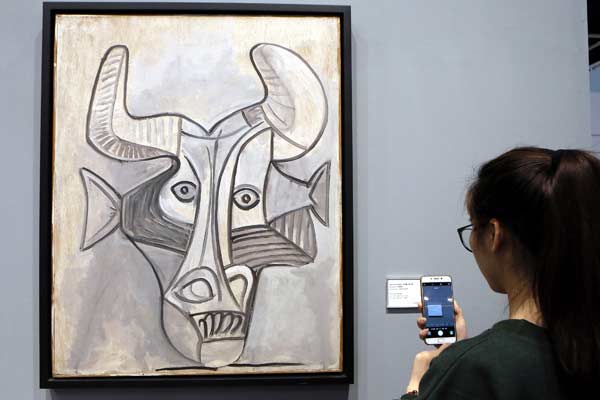 A visitor appreciates an exhibit at Art Basel, a fair held at the Hong Kong Convention and Exhibition Center. [Photo/Xinhua]
Walking through the buzz-filled hall at the Hong Kong Convention and Exhibition Center, Al Brenner- the chief executive of online art market information provider Mutualart.com- is impressed by the energy the Asian market shows towards contemporary artworks.
"It's my first time in Art Basel Hong Kong. Compared to the fairs in London and New York this year, I was surprised to find the art fair here is doing so well. As you can see, the dealers have brought some of the best works here, and they are selling well," he told China Daily while pointing at an installation from Hauser & Wirth's booth called Water in the Ears Puts Guards at the Gates, with an estimated seven-figure or more US dollar price tag.
Art Basel is an international contemporary art fair with three shows staged annually-in Basel, Switzerland; Miami Beach in the United States, and Hong Kong.
Driven by increasing personal wealth, the Chinese collectors' buying power in the contemporary art market has become stronger in recent years, leading to a rapid growth of private museums in Asia. Market projections estimate 1,200 private museums will be built in Asia in the next five years, mostly in China, as the State Administration of Cultural Heritage said on Feb 21 that it expects one museum to be available for every 250,000 people in the country by 2020.
According to the statistics from international law firm Withers, the mainland was the leading global art market with auction turnover close to $4.8 billion last year, followed by the US, which generated $3.5 billion. Overall, auctions in Western markets declined by more than 35 percent in 2016.
In addition to the strong auction sector, Chinese collectors also made more Western art purchases through private sales last year, but there is no public source for data on these dealer sales.
Withers attributes the stronger demand of artworks from Chinese people to rising global uncertainties; art is increasingly seen as an alternative investment.
Diana Wierbicki, global head of Art Law at Withers, said: "People are looking for a store of wealth as the uncertainty mounts over the effects of the Trump presidency and Britain's decision to leave the EU, art is finding ever more favor as a stable, movable asset. In contrast to the past attraction of real-estate, wealthy individuals are attracted to art as an alternative asset class, with easy relocation and multiple options for disposing."
Al Brenner observed the same trend with Chinese collectors. He believes those art lovers from China are becoming more adventurous, so they are looking for new things beyond traditional art.
He said: "Traditional art is something they are already familiar with, but now they want to buy artwork with a value that they discover before everyone else. And big data can help to make private sales much more efficient."
Mutualart.com, headquartered in the UK, announced on March 30 that it has raised $32 million in funding to launch its new private sales service, by using the company's big data on the art market-including in-depth performance analysis of 300,000 artists, current market trends and usage data from more than 500,000 members registered worldwide-to match artworks with the right buyer and offer support and advises.
Currently, Mutualart.com only provides English-language content, so most of its subscribers are from English-speaking countries. But seeing the burgeoning Chinese art market, Brenner said he would launch a Chinese version website soon.