Ant still expects to take over MoneyGram despite rival bid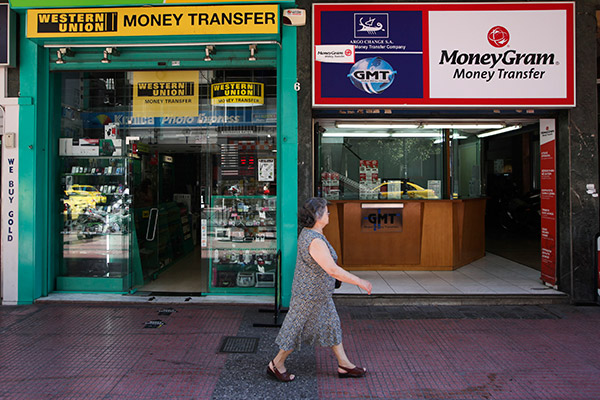 A pedestrian passes Western Union Co and MoneyGram International Inc money transfer stores in Athens, Greece. [Photo/Agencies]
Ant Financial Services Group said on Wednesday it still expected to take over money-transfer network MoneyGram International Inc by the second half of 2017, despite an unexpected counterbid by a US competitor, which analysts said could threaten the deal.
Ant Financial did not elaborate how it plans to close the deal on schedule, after US-based Euronet Worldwide Inc offered a higher bid on Tuesday and argued that an all-US deal would avoid regulatory scrutiny toward foreign bidders.
"MoneyGram and Ant Financial continue to work cooperatively under the terms of our merger agreement, and together, we are making progress on schedule toward obtaining all required regulatory and shareholder approvals," Ant Financial said in a statement.
Analysts said the counterbid potentially marked the first major impediment encountered by the Chinese digital payment leader in its increased move to buy foreign assets, but would not thwart its long-term overseas ambitions.
MoneyGram said on Wednesday its board has not changed its recommendation in support of the agreement with Ant Financial. However it added that it would carefully review and consider the proposal by Euronet and determine what would best serve the interests of the company and its shareholders.
Ant Financial is China's biggest internet-finance conglomerate, with its online payment and escrow service, a money-market fund, a credit-rating system and an internet bank. It has set a target to have 2 billion customers globally over the next decade.
Following its acquisition of a stake in Paytm in India and strategic investment in Ascend Money in Thailand, Ant Financial continued its global push in January by offering to purchase MoneyGram for $880 million in cash, or $13.25 per share. But Euronet trumped Ant Financial's bid by offering $15.20 per share.
The Ant buyout would also need green light from watchdogs including the Committee on Foreign Investment in the United States.
The policy cloud has given an edge to Euronet, whose CEO Michael Brown said its offer was superior to that of Ant Financial's because the latter was "fraught with uncertainty and challenges at every level".
"The Ant Financial deal has to be delayed, as MoneyGram's board has the fiduciary duty to assess the new offer and decide whether it is superior to the old one," said Ling Xiao, partner of Huiye Law Firm, which specializes in overseas investment and financing.
Whatever the result, however, the current setback would not hinder Ant Financial's broader overseas goals, said Li Chao, an analyst with IT consultant iResearch Consulting Group.
"Even if it failed, it's a stand-alone case for Ant Financial. It will continue to push ahead with partnerships and investments beyond China's borders, both for business growth and for a decent profile ahead of its anticipated initial public offering," Li said.