Fed raises rates as job gains, firming inflation stoke confidence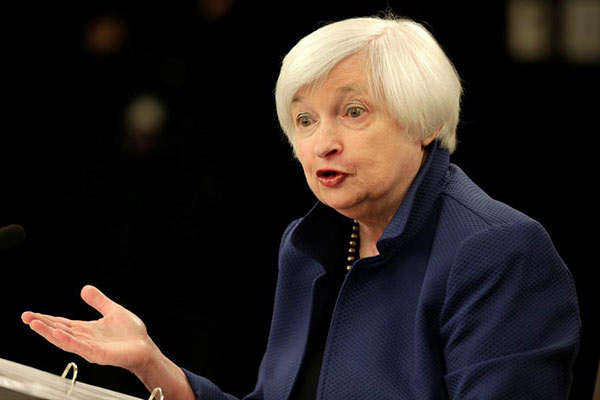 Federal Reserve Chair Janet Yellen speaks during a news conference after a two day Federal Open Market Committee (FOMC) meeting in Washington, March 15, 2017.[Photo/Agencies]
WASHINGTON - The US Federal Reserve raised interest rates on Wednesday for the second time in three months, a move spurred by steady economic growth, strong job gains and confidence that inflation is rising to the central bank's target.
The decision to lift the target overnight interest rate by 25 basis points to a range of 0.75 percent to 1.00 percent marked a convincing step in the Fed's effort to return monetary policy to a more normal footing.
Fed Chair Janet Yellen pointed to growing faith in the economy's trajectory.
"We have seen the economy progress over the last several months in exactly the way we anticipated," Yellen said in a press conference following the end of a two-day policy meeting. "We have some confidence in the path the economy is on."
The Fed also stuck to its outlook for two additional rate increases this year and three more in 2018. The central bank lifted rates once in 2016.
Stock markets extended gains and bond yields fell on the benign economic outlook and the continued steady path of rate rises signaled by the central bank. The dollar was trading lower against a basket of currencies.
Fed policymakers noted that inflation was now "close" to the central bank's 2 percent target, and that business investment had "firmed somewhat" after months of weakness.
However, they did not flag any plan to accelerate the pace of monetary tightening, with the policy-setting committee reiterating and Yellen emphasizing that future rate increases would be "gradual." At the current pace, rates would not return to a neutral level until the end of 2019.
Rather, the Fed's statement said the inflation target was "symmetric," indicating that after a decade of below-target inflation it could tolerate a quicker pace of price rises.
"It relieves some of the fears we've had that perhaps the Fed was going to raise rates faster in the future. They've chosen not to signal that," said Brad McMillan, chief investment officer at Commonwealth Financial.
Agencies