China's steel exports continue to slump in January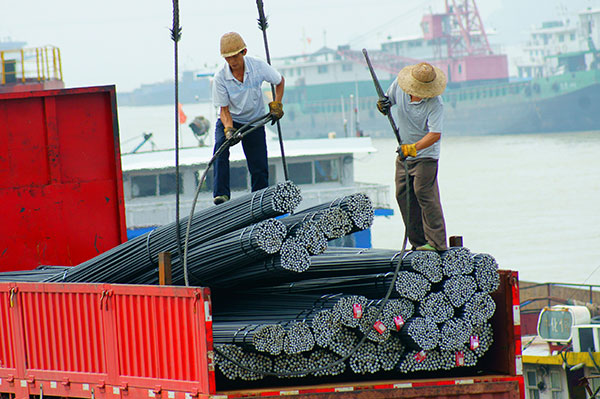 Workers load steel products at a logistics park in Yichang, Hubei province. [Photo/China Daily]
BEIJING - China's steel exports fell 23.2 percent year on year to 7.42 million tons in January as the number of trade barriers rose, official data showed Thursday.
The plunge in January extended the 26.8-percent decline seen in December 2016, according to the General Administration of Customs (GAC).
Rising trade protectionism amid a global glut has weighed on China's steel exports, which dropped 3.5 percent to 108.4 million tons last year.
In 2016, there were 48 trade cases filed by 20 countries and regions against China's steel products, a 29.7 percent rise from the previous year, according to Lange Steel Information Research Center.
China, the world's largest steel producer and consumer, has repeatedly stated that the root cause of the global steel sector's woes is a sluggish world economy and shrinking demand, and it is a global challenge that needs to be tackled through shared efforts.
The central government has been trying to reduce excessive and outdated production capacity in the steel sector, reducing its steel output by at least 45 million tons last year, meeting its annual target.
In January, China imported 1.09 million tons of steel, up 17.7 percent year on year, according to the GAC.