Wecar shows more money in fuel stations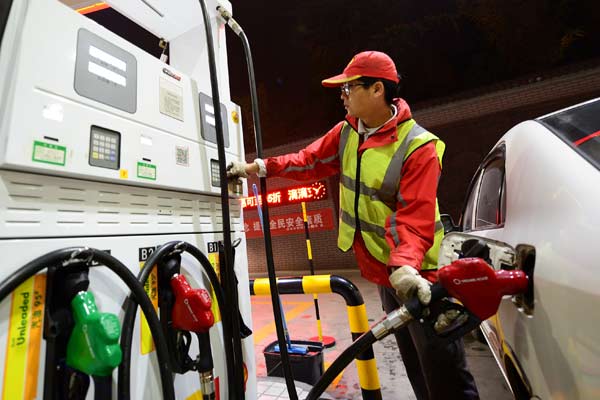 A gas station employee refuels a car in Xi'an, the capital of Shaanxi province. [Photo/Xinhua]
Gasoline stations in China are already making money, but that's only the tip of the energy chain iceberg, according to Luo Yi, founder and CEO of Wecar, a Shenzhen-based startup since 2014.
"China's gas stations can totally make extra bucks from sectors other than fuel," said Luo.
"We want to help them boost their performance by 70 percent through its supporting industry, including beverages, snacks, fast food, cinema and all that you could imagine."
Considering the non-gas sales of China's filling stations account for only 1 to 2 percent of the total revenue, far below the 70 percent of their American and European peers, Luo said there is a huge market to tap.
Instead of getting out of their vehicle to fuel up, and queue up for invoice, the Wecar app allows customers to finish the whole process including ordering some snacks and drinks with a few taps on a smartphone, without getting out of the car.
After fueling up your car more than 10 times at one gas station, you will be offered a 10 to 15 percent discount as part of a gasoline loyalty program.
However, the company's ambition is far beyond discounts for vehicle owners or bringing more consumers to gasoline stations.
For a gas station in developed countries like the United States and Japan, sales of non-gasoline account for some 70 percent of the total revenue. But the figure is as low as 2 percent in China, said Luo.
Most of China's gas stations don't care too much about non-gasoline sales as fuel makes decent profit already, he said.
"However we can't deny or ignore the huge potential of the supporting industry of the filling stations."
Luo said he believed when offered the right thing, people are willing to take care of the check while waiting for their car being fueled up, and the product recommendation based on one's purchase history would help boost the sales more accurately.
"The current gasoline stations in China, even in first-tier cities like Beijing and Shanghai, only offer simple snacks like gums, candy, and mineral water," said Luo.
"It satisfies China's purchasing capacity no more."
In addition to the non-fuel sector including snacks, Luo plans to introduce vehicle maintenance, repair services, dining and shopping malls, banks and cinema choices in the near future.
Wecar has encountered several competitors with similar ideas so far, yet what makes the Shenzhen-based company rise is its focus on research and development.
"Half of our stuff is from the R&D department and we will allocate 70 percent of the next round's investment to research and development," said Luo.
More than 100,000 gasoline stations are currently cooperating with the company, most of which are privately owned gas stations in the southern part of the country like Zhejiang province and Guangdong province, where the startup is based.
It aims at further expanding its participating merchants up in the north in the near future, especially around the capital, he said.
Many gas stations report a business growth, with an average of 30 percent. One has even seen its petroleum sales rise by 50 percent, with an extra 10 million yuan revenue in one year.
The company is going through the negotiation of the third round of investment, after gaining the initial angel investment of 5 million yuan in 2014 and the second round of 50 million yuan in 2015, public data shows.
"Compared with other sectors like the taxi-hailing Uber, the energy field is more for traditional and stable players who don't like too much risk or innovation," said Luo.
"It's more challenging to promote our product and idea in a short period of time, yet we still believe a good product, with proper market promotion at the right time, will finally shine and be sought after in no time."