RMB predicted to stabilize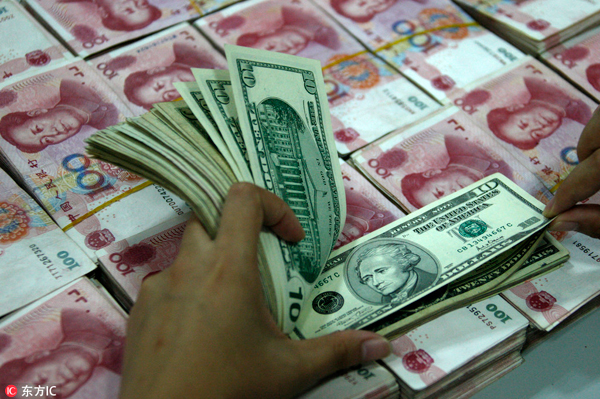 A clerk counts yuan bank notes and US dollar bills at a branch of the Industrial and Commercial Bank of China in Huaibei, East China's Anhui province, Nov 28, 2012. [Photo/IC]
The renminbi will stabilize against the US dollar because the Chinese economy may have reached its bottom, Cao Yuanzheng, chairman of BOCI Research Limited and former chief economist of Bank of China Ltd, said on Tuesday.
Although China experienced a continuous economic slowdown for 24 quarters, the growth of Producer Price Index has recently turned from negative to positive, showing an increase in Chinese companies' sales revenues and their ability to pay interest on loans. Meanwhile, the profit growth of industrial enterprises is accelerating, also indicating an improvement in companies' debt-repayment ability, according to Cao.
"We think the Chinese growth rate may have reached its bottom, so China will not ease monetary policy further to give a large scale stimulus to the economy. That is, the possibility for the central bank will cut interest rates and reduce reserve requirements is significantly reduced. Under this monetary environment, the renminbi has no basis for depreciation in the long run and will stabilize against the US dollar," he said at the Renminbi World Conference 2016, which was organized by the Asian Banker, a Singapore-based provider of strategic information on the financial services industry.
Furthermore, big infrastructure projects along the routes of the Belt and Road Initiative will provide a broader space for the use of the renminbi, which will become an important, stable currency over the long term, he added.
Yang Bin, a senior executive at Shanghai Pudong Development Bank Co Ltd, said: "Under the trend of the internationalization of the renminbi, commercial banks are seeing new opportunities in areas including infrastructure financing, and cross-border renminbi asset management."