OECD predicts growth to continue in China and move higher in the US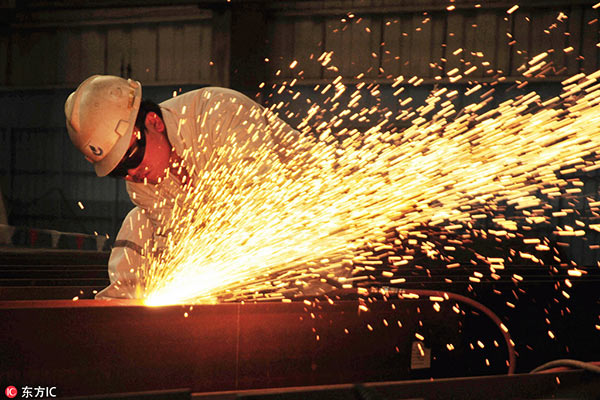 A Chinese worker processes steel products at a factory in Qingdao city, East China's Shandong province, October 1 2015. [Photo/IC]
China's economy will grow at 6.7 percent this year, but will edge down to 6.4 percent and 6.1 percent in 2017 and 2018 respectively, the Paris-based Organization for Economic Co-operation and Development (OECD) said on Monday in its latest Economic Outlook, which is published twice each year.
Its three-year predictions are roughly consistent with the Chinese government's goal of achieving an average annual rate of 6.5 percent during the 2016-20 period to realize its target of doubling the per capita income by 2020 from a 2010 base, although the OECD said China needs to arrest the downward trend in 2019 and 2020 if it is to reach that goal.
Leading Chinese policy insiders said the OECD predictions for the three years were reasonable as growth fluctuations were normal and acceptable in the process of restructuring the economy and China "enjoys more advantages than disadvantages" in keeping its annual economic growth rate at 6 to 7 percent in the 2016-20 period, as long as the economies of the United States, Japan and the EU also offer growth momentum.
The OECD said the US economy is going to pick up, due to an assumed easing of fiscal policy, with the economy projected to grow by 2.3 percent in 2017 and 3 percent in 2018. The euro area is predicted to grow 1.6 percent in 2017 and 1.7 percent in 2018. Japanese growth is projected at 1 percent in 2017 and 0.8 percent in 2018.
The report says that the total growth of the 35 OECD countries is projected to be 2 percent in 2017 and 2.3 percent in 2018. India's growth rates are expected to hover above 7.5 percent over the 2017-18 period, but many emerging market economies will continue to grow at a more sluggish pace.
"The global economy has the prospect of modestly higher growth, after five years of disappointingly weak outcomes," OECD Secretary-General Angel Gurria said, while launching the report in Paris. "In light of the current context of low interest rates, policymakers have a unique window of opportunity to make more active use of fiscal levers to boost growth and reduce inequality without compromising debt levels. We urge them to do so."
The organization said global growth will grow by 3.3 percent in 2017 and 3.6 percent in 2018.
Chi Fulin, president of the China Institute for Reform and Development, said the messages in the OECD report were quite positive and China's continuing economic restructuring would also benefit from the upside projections of the global economy and advanced countries.
"There is no problem for China to keep its target of an average rate of 6.5 percent of economic growth during the 2016-2020 period. Plus, China has much untapped potential to maintain a medium and high rate, given such a populous and mature market," said Chi, a leading policy adviser for the government.
"The predictions on growth trends of the advanced economies will further help China maintain faster growth."
Chi urged the international community to look at China's fluctuations in growth rates with "a rational mindset."
"This is because China is now changing its investment- and export-driven model to other growth engines, such as consumption, innovation, green development and upgrading of people's life quality," said Chi. "Therefore, the fluctuations in the next five years are expected and healthy."
However, Chi said the fluctuations would be manageable and growth would stay at 6-7 percent. "So, I am very confident that China can deliver its targets during the 2016-20 period, in order to realize the goal of doubling growth of per capita income from 2010 to 2020."