China's overseas direct investment surges 53.3% in first ten months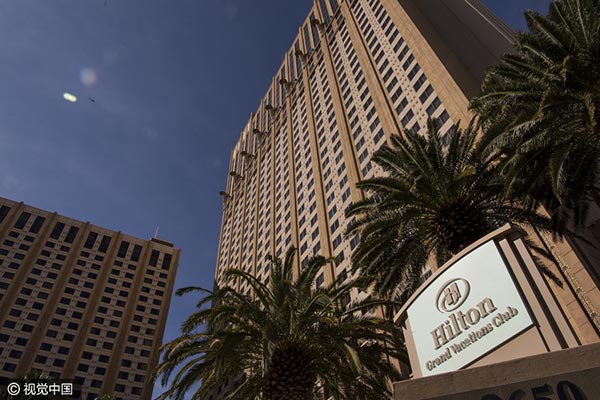 A Hilton Worldwide Holdings Inc Grand Vacations Club hotel stands in Las Vegas, Nevada, US, Feb 24, 2016. [Photo/VCG]
BEIJING - China's outbound direct investment (ODI) is surging despite weak global growth as Chinese companies continue to internationalize their business.
Non-financial ODI increased 53.3 percent year on year to reach $145.96 billion in the January-October period, easily surpassing the total for 2015 of about $121.4 billion, according to the Ministry of Commerce on Thursday.
In October, ODI grew 48.4 percent year on year to reach $11.74 billion.
China's overseas investment reached 162 countries and regions, most of which has gone to Hong Kong, ASEAN, the European Union, Australia, the United States, Russia and Japan in the first ten months, with the United States posting the strongest year-on-year growth at 173.9 percent.
ODI continued to exceed foreign direct investment (FDI) into the Chinese mainland, which rose 4.2 percent year on year to reach about $98 billion in the same period. China's ODI exceeded FDI for the first time ever in 2015, becoming a net capital exporter.
In addition to growing investment volume, the pattern of China's ODI is changing rapidly as the consumer and services sectors gather momentum.
China's overseas investment started with raw materials, moved on to infrastructure and manufacturing, and is now starting to focus on big-name consumer brands and high-tech companies, according to a research note from HSBC.
Official data showed that in the first ten months, most of the investment flowed to commercial services, manufacturing and retail, with equipment manufacturing almost quadrupling last year's investment.
Once dominated by large state-owned enterprises in search of iron ore and copper, China's ODI now includes private sector giants buying US film studios and European fashion houses, along with state-backed companies snapping up new tech firms, the HSBC note pointed out.
The HNA Group is a good example of the trends. The private conglomerate from south China's Hainan province extended its push into the leisure sector with a high-profile deal to buy a 25-percent stake in Hilton in October.
In the past two years, the company has spent about $23.8 billion in cross-border acquisitions, including hotels and commercial real estate, in order to extend its value chain and strengthen its aviation core business, according to the note.
Official data showed that Chinese companies continued to work closely with countries along the Belt and Road Initiative. They signed construction contracts worth over $84 billion during the period, up 30.7 percent year on year.
However, HSBC noted that investment in the Belt and Road countries has been moderating in recent months due to global uncertainties and a high comparison base in 2015.
With the global economy showing signs of recovery, more projects are reaching the implementation stage, cross-border connections are becoming more sophisticated, and financing support is gradually strengthening, HSBC said in the note, adding it expects China's investment in the Belt and Road region to grow at a stable pace in the next couple of years.