Chinese enterprises in Kenya launch social responsibility report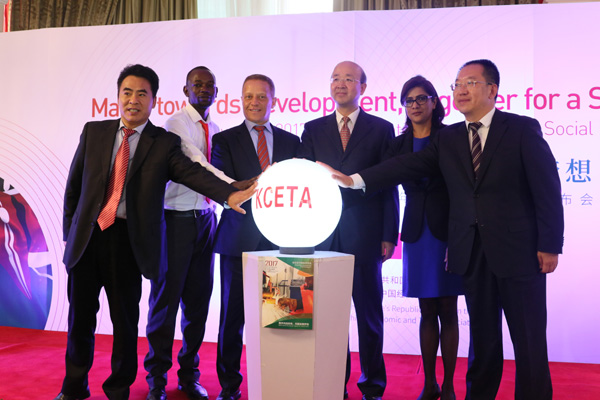 Mr. Guo Ce, economic and commercial counselor, Mrs. Farida Abbas, CEO of British Chamber of Commerce in Kenya, Mr. Liu Xianfa, Mr. Nick Nesbitt, Mr. Jacob De Kiahe and Vice President of Stecol Corporation Zhang Yufu (from right to left) at the unveiling of the CSR Report. [Photo by Liu Hongjie/chinadaily.com.cn]
The Kenya-China Economic and Trade Association has launched a social responsibility report for the first time.
The association's report, March towards Development, Together for a Shared Future, released on Wednesday, gives reviews the impact of the 73 member organizations' corporate citizenship programs, environmental, social and governance activities.
It also examines the role of Chinese enterprises' business activities in the local economy in 2016.
Some companies have run programs designed to ensure business ethics and integrity, and integrate responsible practices into business operations.
Speaking at the launch of the report, the Chinese Ambassador to Kenya, Dr Liu Xianfa, said the association had made valuable contributions to cooperation between the two countries.
"KCETA member companies continue to proactively carry out social responsibility, comply with laws and regulations and integrate the sustainable development goals into their activities," he said.
He noted that Chinese companies in Kenya have hired more than 42,000 local employees.
A recent World Bank report noted that Chinese businesses in Kenya employed on average 360 local workers, more than the average of 147 by other foreign companies in the East African country.
"Creating employment opportunities is one aspect of upholding CSR (corporate social responsibility). All Chinese companies are also creating win-win outcomes by transferring technology, contributing to communities and cooperating with local government," he said.
Kenya Private Sector Association Chairman Nick Nesbitt said the private sector played a major role in Kenya's economic growth, providing more than 71 percent of employment opportunities in the country.
"CSR is changing from charity to business practices that have a positive impact on people, the planet and profit and we are happy that the Chinese businesses in Kenya are taking a similar direction," he said.
The Mcedo Beijing School, which educates students from the Mathare slum has benefited from support from the Chinese embassy in Kenya and the Chinese business community.
"Through the support by KCETA member enterprises, Mcedo Beijing School students are able to get education opportunities through to universities thereafter supporting their families," school deputy chief executive Jacob De Kiahe, said.