Chinese doctors' skills, care touch hearts in Lesotho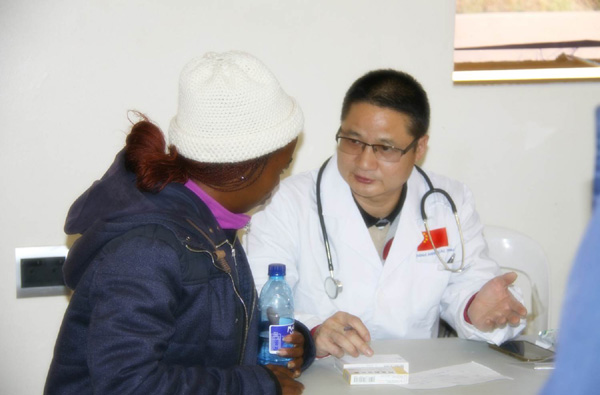 Xu Fulu (R) talks to a patient in Lesotho. [Photo provided to chinadaily.com.cn]
Chinese doctors won respect and admiration in Lesotho for their extraordinary medical skills during their one-year deployment in the African country.
Xu Fulu, a physician at Wuhan sixth hospital, went to Lesotho with 6 other doctors in October 2015 to provide medical aid to the poverty-ravaged country. Based at a hospital over 120 km away from the capital Maseru, Xu's daily life was packed with assignments due to shortage of staff members.
The outdated medical facilities were always a challenge for the local doctors, but the rare draught and the resulting health problems across the country made the work even more difficult. But Xu never allowed these factors to bog him down and patients diagnosed by him all got timely and proper care, winning him the title of "No 1 doctor."
The public praise won by Xu and his medical team was heard by top officials in Lesotho. In December 2015, the team received a phone call asking them to visit a senior official who was ill and to keep the news secret. They were only told that the patient had just undergone an operation, and no other specific information was revealed.
Based on the limited knowledge, Xu came to the conclusion that the patient's wound was not fully healed, which caused infection. And he recommended musk cream and oral antibiotic. The official's condition turned out to be exactly as Xu had diagnosed and he recovered fully thanks to Xu's prescription. The healing power of the Chinese doctor and medicine surprised the mysterious patient, who turned out to be Lesotho's Prime Minister Pakalitha Mosisili.
Another government official, a female diplomat who was paralyzed after a tumor operation seven years ago, also went to Xu on the recommendation of the prime minister. After thorough examination and inquiry, Xu discovered that the diplomat's suffering was caused by long-term mental stress. After he recommended acupuncture and moxibustion as well as nutritional supplements, the patient was back to her normal self in less than 20 days.
Prime Minister Pakalitha Mosisili went back to the medical team for help in September 2016 to save his 78-year-old sister-in-law who he regarded as mother. The patient was in coma and her condition was very serious, which meant there was great pressure on Xu. The prime minister pinned his last hope on Xu and decided to let his sister-in-law receive treatment at the Chinese-based hospital.
Xu quickly got down to work and detected severe heart failure, pulmonary infection and polyserositis. After intensive treatment by Xu and his team, she finally healed 20 days later.
The great job they did meant a lot not only to the prime minister, but also to the Chinese embassy in Lesotho which praised the medical team for its support to the nation's diplomatic cause.
Sun Xianghua, Chinese ambassador to Lesotho, spoke highly of the diplomatic contribution made by the medical team when it left for China in last October.
Xu said the year in Lesotho taught him a lot, adding that it was only after working abroad that he fully realized the greatness of China and what patriotism meant.
"The medical team not just provided medical aid, but was also a bridge that built friendship between the two countries and played a key part in political and diplomatic relations. We should always have the sense of self-sacrifice to serve the bigger interest," Xu said.
China started sending medical aid to Lesotho, one of the most impoverished countries in the world, in 1997 and has sent over 100 medical staff members in the past 20 years.
Zhou Lihua contributed to this story