Africa seeks help to boost internet infrastructure
Africa needs to work with Chinese companies to accelerate the development of its internet infrastructure, an African government representative told the third World Internet Conference.
Abdallar Said Sarouma, Union of Comoros information and communication technology adviser, says China has been very innovative in the internet sector while Africa lags behind.
"We clearly understand the importance of working together with China, especially in the information and communication technology sector," he says.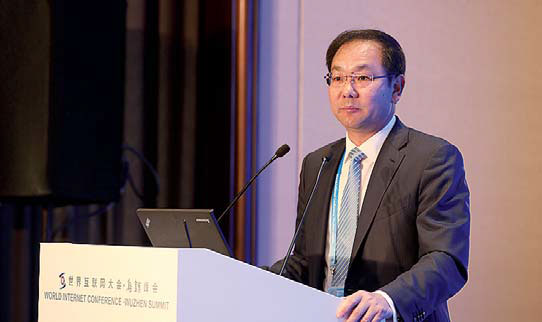 Ding Shaohua, senior vice-president of Huawei, says investment in ICT technology could drive GDP growth. Zhu Xingxin / China Daily
Comoros is now working with Chinese telecommunications giant Huawei to install such things as underground fiber-optic cables. In a month, the island nation will finish laying its second international undersea optical cable.
"Africa has a large demand for improving its network infrastructure, but our capabilities are limited, so we hope China and Chinese companies will make efforts to help. I hope China's successful experiences in the internet sector can help us," he says.
Ding Shaohua, senior vice-president of Huawei, says that when a country increases its investment in ICT technology by 20 percent, its gross domestic product can grow by about 1 percent.
He says developed countries invest about 5 percent of their GDP in the ICT sector, a percentage 2.5 times that of developing countries.
"This is why we are discussing accelerating network infrastructure, especially in cooperation between China and Africa, which I think is of great urgency, but also of great potential," he says.
The third World Internet Conference was held from Nov 16 to 18 in Wuzhen, Zhejiang province, with the theme "Innovation-Driven Internet Development for the Benefit of All - Building a Community of Common Future in Cyberspace". The conference included 16 forums covering 20 major issues, such as internet economy, internet innovation, governance in cyberspace and international cooperation on the internet.
Yang Changkun, vice-president of the YOFC, a company based in Wuhan, Hubei province, that specializes in the production and sale of fiber-optics and cables, says that the company has already laid fiber-optics for African countries such as Ethiopia, South Africa and Kenya. It has already sold about 180,000 kilometers of cable in Kenya.
"The African market has great potential for growth. We have already built a cable factory in South Africa to produce cable for that country's market," he says, adding that in the future he would want to build more production bases in different regions of Africa and build a sales and service network that covers the whole of Africa.
"We need to be patient with Africa, because the building of internet infrastructure will need capital, policy support and many conditions. We need to wait for the market to embrace explosive growth one day," he says.
Yu Xiaohui, chief engineer of China Academy of Information and Communications Technology, says China can share its experience of building an internet network, not only because of the large scale of China's network but also because of the imbalance it has.
He says China has many regions that have very advanced internet infrastructure, such as Shanghai, but also many where internet is not well-developed, like many regions in Africa.
"China has good experience of how to transform backward infrastructure into advanced infrastructure," he says.
Ding says that China could also share its experience of cultivating engineers and managers in the ICT sector. Huawei, which has been in Africa for about 20 years, has established seven training centers and cultivated more than 30,000 ICT professionals.
He says Huawei also launched a program last year that expects to cultivate 1,000 African college students in the following five years, asking them to take internship in Huawei's offices in China, and learning ICT technology.
"I believe, they will become ICT experts in Africa in the future," he says.