Lam's decision responsible and responsive
Share - WeChat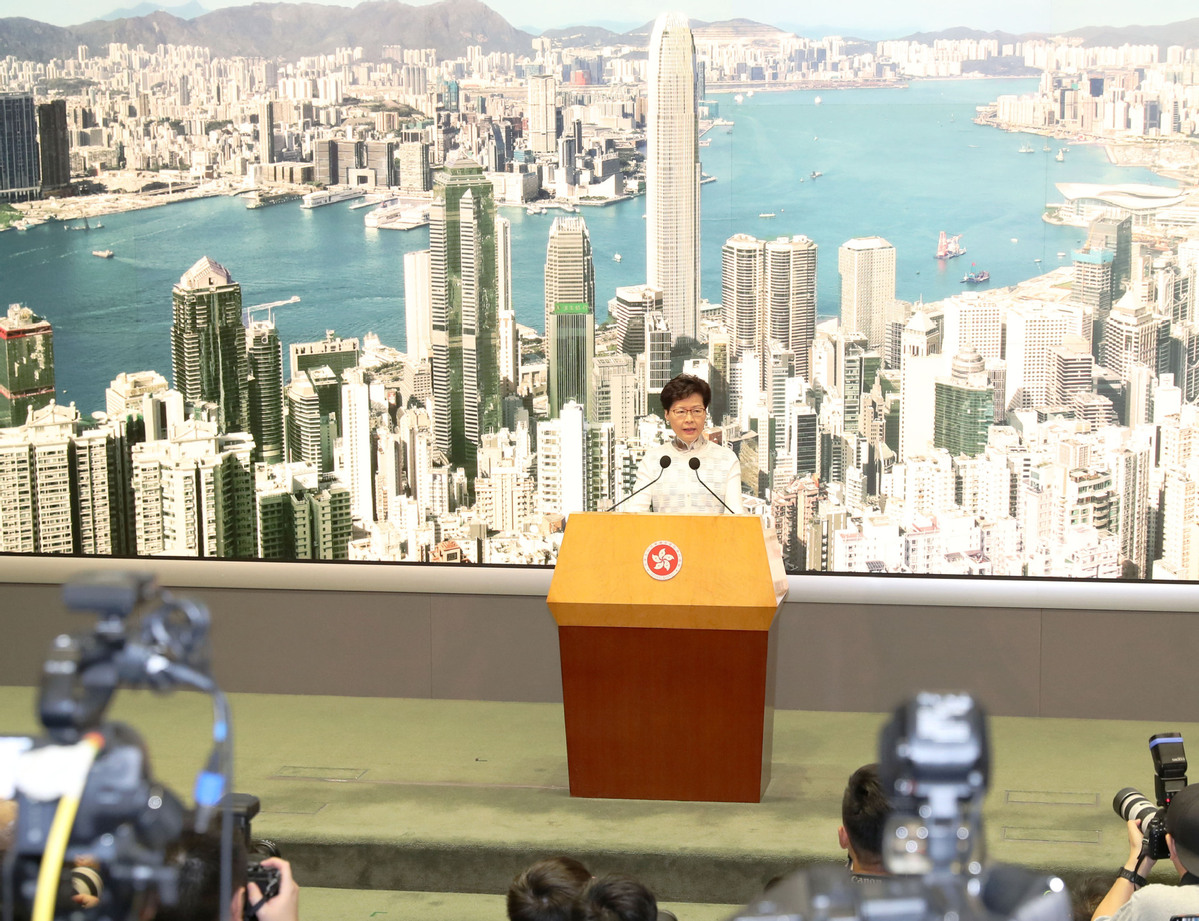 Chief Executive Carrie Lam Cheng Yuet-ngor's decision to suspend the proposed extradition law amendments is undoubtedly a decisive yet difficult one. But the move should in no way be interpreted as the HKSAR government succumbing to radicalism and violence.
In a society governed by the rule of law such as Hong Kong, radicalism won't sell. Mobocracy, instigated and fueled by the opposition camp for most of the time, has never prevailed in the SAR. This has been well proved in the illegal "Occupy Central" movement and the campaign against the co-location arrangement for the West Kowloon terminus of the Guangzhou-Shenzhen-Hong Kong express rail link. Violent protesters failed miserably in both campaigns, with some still serving their prison terms for breaking the law.
It would be equally wrong to assume that the SAR government was yielding to pressure from foreign forces, who are trying to turn Hong Kong into a bridgehead for interfering in China's internal affairs with the ultimate purpose of containing the country and hindering its development.
It would be rather illusional for foreign governments or politicians to think that they can -- in any way including through intimidation -- impose their will on Hong Kong, a special administrative region of the People's Republic of China. They are to be reminded: China's determination and will to safeguard national sovereignty, security and development interests are unswerving; any attempt to interfere in Hong Kong affairs or wreak havoc in the SAR is doomed to fail and would only expose the ugly face of political arrogance and chauvinism.
Rather than a sign of weakness, the SAR government's decision to suspend the legislative process for the rendition law amendment bill attests to the administration's responsiveness to public opinion. It will allow the public more time to engage in further discussion on the issue.
It is to be hoped that members of the community will actively participate in the next stage of consultation with the aim of achieving a greater consensus on the proposed amendments, which are unarguably necessary to plug the legal loopholes that have facilitated hundreds of fugitives gaining a haven from justice in Hong Kong.
To make the next stage public consultation more fruitful, it is advisable that top-ranking officials in the SAR government go to the community as frequently as possible to collect public input first hand. But most important of all, the public must engage in rational discussion, and distance themselves from members of the opposition camp who have their own political agenda to promote at the expense of society.