Learn from mistakes that led to World War I
Share - WeChat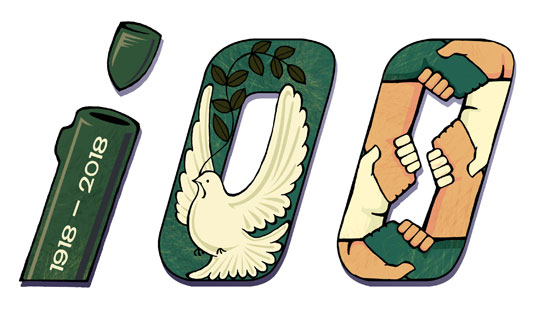 A century ago, on Nov 11, 1918, at 11 am Paris time (the eleventh hour of the eleventh day of the eleventh month), the armistice confirming the total surrender of Germany to the Allies came into effect, putting an end to World War I. It had been signed five hours before at Rethondes in the forests of Compiègne near Paris inside a railroad wagon.
On June 22, 1940, the same railroad wagon would host the signing of a second armistice; this time, France would surrender to Germany. That restaurant car of the Compagnie des Wagons-Lits symbolizes the drama and folly of European history in the 20th century.
Nine million soldiers and 7 million civilians were killed. After four years of untold suffering and carnage, European youths lay under the fields. Three imperial crowns and half a millennium of European geopolitical predominance accompanied them to their grave. All the European powers involved lost, even those that happened to be on the "winning" side. Had the actors of the drama been prescient enough to anticipate the landscape after the battle, nobody would have dared to start it.
US diplomat and historian George Kennan's The Fateful Alliance, published in 1984, is a good read to reflect on the lessons to be drawn from that war. He points out to "the inability of otherwise intelligent men to perceive the inherently self-destructive quality of warfare among the great industrial powers of the modern age", and how they suffered "a terrible penalty for their limitation of vision". And he denounces how "the unjustified assumption of war's likelihood became the cause of its inevitability"-a self-fulfilling prophecy.
Splitting Europe into two military alliances-which, once in place, developed a momentum of their own-led to disaster. To split again the world in blocs, whether economic or military, would be to repeat the mistake of the European countries at the beginning of the last century. The "pivot", Obama's version of containment targeted at China, had an economic leg, the Trans-Pacific Partnership. The Financial Times called it "ABC, anyone but China".
Former US deputy secretary of state Robert Zoellick said that "attempts to isolate China will inevitably fail, since all the members of TPP are great beneficiaries of their relations with China". And former US secretary of state Henry Kissinger said China had to be admitted to TPP and warned: "If a global economic order does not appear, obstacles in the field of security might become unsurmountable". Former Singapore prime minister Lee Kuan Yew was more explicit: "Protectionism under the shelter of regionalism will breed conflicts or even wars".
Much worse would be the formation of new military blocs. In May, the US Pacific Command became the "Indo-Pacific Command", an attempt to enlist Japan, India and Australia to contain China. It is not yet clear, though, whether these countries, with close economic links with China, will follow the US lead. Kennan said that in the nuclear age "if governments are still unable to recognize that modern nationalism and modern militarism are, in combination, self-destructive forces, and... if they are incapable of bringing them under control... they will be preparing, this time, a catastrophe from which there can be no recovery and no return ... our failure will be final-for ourselves and for all future generations."
On Sept 13, Kissinger said that, talking about US-China relations: "The issue is not victory, here the issue is continuity, and world order, and world justice, and to see whether our countries can find a way of talking about it to each other." This vision dovetails with President Xi Jinping's concepts of a community with a shared future for mankind and a new type of international relations, based on win-win cooperation.
What the world needs is not economic or military blocs, but peaceful and inclusive partnerships; not confrontation, but cooperation; not containment, but engagement. Differences, economic and otherwise, can be ironed out through negotiation.
Interviewed by Edward Luce, of the Financial Times, on July 20, Kissinger said: "We are in a very, very grave period." He was not more explicit, but in view of the turn US policy toward China is taking, it is not difficult to understand what he meant. There is still time to avoid the grievous mistakes that led Europe to self-destruction a century ago.
The author is former Spanish ambassador to China.
Most Viewed in 24 Hours
China Views