CPEC consensus builds after Khan visit
Share - WeChat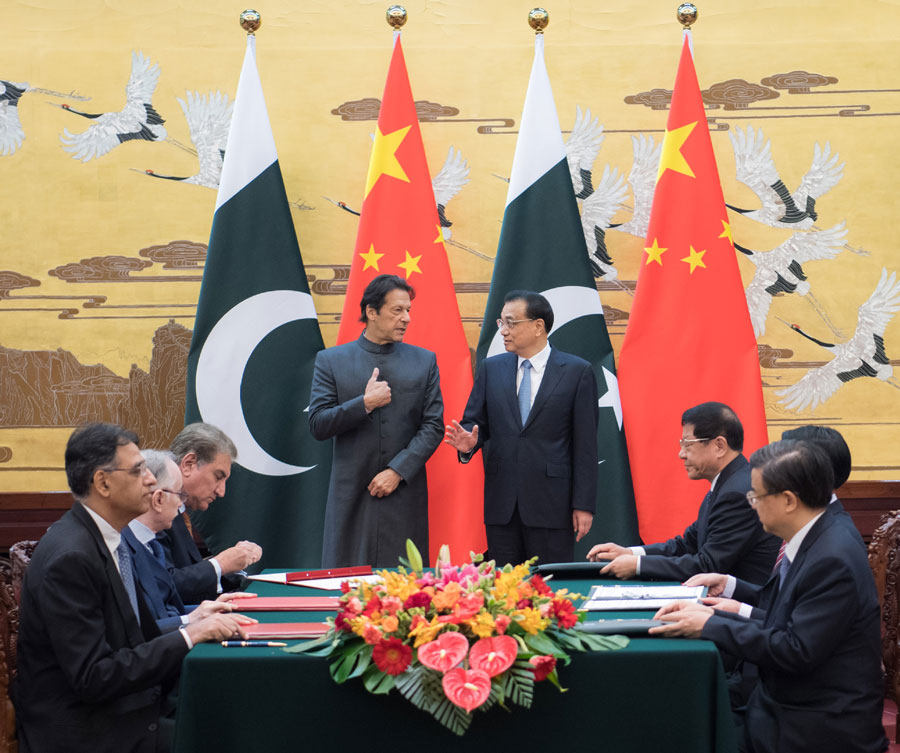 Prime Minister of Pakistan Imran Khan, with official invitation from Chinese Premier Li Keqiang, has been on a state visit to China since Nov 2. He has received warm greetings and traditional Chinese hospitality during his visit so far. Although Khan visited China before in 2011, at that time he represented his Pakistan Movement for Justice party — a much smaller entity as compared to now. This, however, was his first visit as prime minister, and his first time interacting with high-level leadership.
He paid tributes to national martyrs at Tian'anmen Square, signifying their role in the success of the revolution and the emergence of modern China. He addressed the Central Party School, where he shared his own political struggles and discussed the threat of corruption in Pakistan. He traveled to Shanghai on Nov 4, and is scheduled to attend the inaugural ceremony of the first-ever China International Import Expo.
By interacting with top leadership in China, he has refuted misunderstandings and confusions created by the media regarding his personality, his party PTI and his policies on the China-Pakistan Economic Corridor. The visit has helped him understand the Chinese leadership, their vision and commitment to the cause of building a future of shared destiny in the region. It has also created a great opportunity to cultivate personal relationships and understanding between leaderships. He has been able to better understand the Belt and Road Initiative and the importance of CPEC.
During his visit, 15 agreements and memoranda of understanding were signed in various areas of cooperation. Both sides expressed full satisfaction on early harvest projects and reaffirmed their commitment to complete all these projects on time. Both sides agreed to further enhance the scope of CPEC to the social sector.
The next phase of CPEC will be the development of Special Economic Zones. Pakistan has already identified nine potential SEZs with close consultation from Chinese experts. Labor-intensive industry will be moved to Pakistan in the near future and industrialization will help Pakistan generate employment and boost domestic productivity.
It is expected Pakistan will attract Chinese entrepreneurs for an upcoming mega-project of 5 million new houses under the "Naya Pakistan Housing Project". The housing sector will generate new jobs and demand for construction materials, consumables household items. This project and the resultant job generation was part of Khan's party manifesto, which he is eager to fulfill by the end of his term.
Talks between the two governments were very cordial and comprehensive. A consensus was developed to strengthen ties between the two countries. Political and strategic relations were bolstered and commitment on CPEC was reaffirmed by both sides. Trade, investment and financial cooperation are to be enhanced further. Sectors of science and technology have been promoted further, including marine, space, environmental and agricultural. Cooperation in a wide variety of sectors like people-to-people cultural linkages, defense, security, counter-terrorism was agreed on as well.
Khan has already expressed his desire to learn from the Chinese experience in fighting against the evils of poverty and corruption. The fruit of his successful visit may be visible in the near future and depend on how well Pakistan can follow-up and pursue the agreements made during this visit. Pakistan needs to do its homework well and introduce reforms at home. Conducive policies may be introduced to enable economic development. Institutional capacities have to be enhanced to meet desired results. Investor-friendly policies have to be devised to attract more investment from China and the world at large.
Zamir Ahmed Awan is a sinologist and non-resident fellow at the Center for China and Globalization.
Most Viewed in 24 Hours
China Views