Zimbabwe attracts more Chinese visitors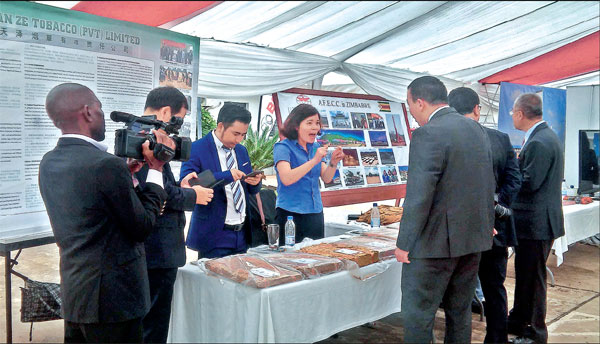 But lack of knowledge about the African country shows need for renewed marketing efforts, tourism experts say
Tourist arrivals from China to Zimbabwe have grown considerably, although the southern African country remains largely unknown in China, tourism experts say.
Data from the country's tourism promotion body, the Zimbabwe Tourism Authority, show that in the first half of this year, tourist arrivals from China were up by 23 percent - 7,296 arrivals compared with 5,935 for the same period in 2017.
More than 14,400 Chinese visited Zimbabwe in 2017 - a 57 percent increase from 2016.
Trends during the past 14 years show that tourist arrivals from China have generally grown each year, except in 2005, 2012 and 2015, when arrivals dropped sharply.
Jeffreys Manjengwa, the ZTA's director of international marketing, says that despite employing various strategies and efforts to woo Chinese tourists, Zimbabwe remains a relatively unknown tourist destination in China.
"Zimbabwe is still unknown in China, and there is need to invest more resources for destination marketing programs in collaboration with key stakeholders promoting business to Africa," he says, adding that the ZTA expects the government will provide adequate funding for marketing purposes worldwide.
Steve Zhao, who runs a travel agency and is vice-chairman of the Chinese Federation of Zimbabwe, agrees that Chinese tourists know very little about Zimbabwe but acknowledges that tourism traffic between the two countries has spiked this year.
"At the moment, there are not many challenges in bringing Chinese tourists to Zimbabwe. The government recently sorted the issue of visas. Chinese tourists no longer need to apply for visas before they come. They can do it at the port of entry," says Zhao, whose company hopes to bring more than 15,000 Chinese visitors this year.
China, the world's second-largest economy, has become one of the most lucrative tourism markets across the globe.
Chinese visitors to Zimbabwe spend on average $1,544 per person per trip, according to the ZTA. Around 48 percent come mainly on holiday, while around 32 percent come for business, it says.
Over the years, the ZTA has tried to attract Chinese tourists to the country through such measures as approved destination status, opening a tourism office in Beijing, direct flights to Beijing, travel shows and roadshows in China, and participation in investment forums in China.
Other strategies have included cultural exchange and training programs, joint marketing programs with Chinese companies, destination promotion, celebrity hosting and publicity films.
However, the ZTA identifies Zimbabwe's nonrepresentation in the Chinese market as one of the main problems impeding the successful marketing of the country to China. A tourist office that was opened in Beijing in 2004 is not currently staffed, and there are no longer direct flights from China to Zimbabwe following the withdrawal of Air Zimbabwe in September 2011, increasing the cost of travel for potential tourists.
Other challenges pertain to visa issues, poor funding for promotional programs, limited destination awareness and the unavailability of information about Zimbabwe on Chinese social media platforms.
Nonetheless, Manjengwa, the ZTA director of international marketing, expects that the relaxation of the visa policy for Chinese.
Zhao says Zimbabwe needs a robust marketing strategy to bring in more Chinese visitors.
Currently, the tourism promotion body is working with Touchroad Holdings Group and China's fourth-biggest television network, Zhejiang Radio and Television Group, to produce a documentary film on Zimbabwe to increase awareness of the country in China.
For China Daily
(China Daily European Weekly 10/12/2018 page25)