Moi University students sing Chinese songs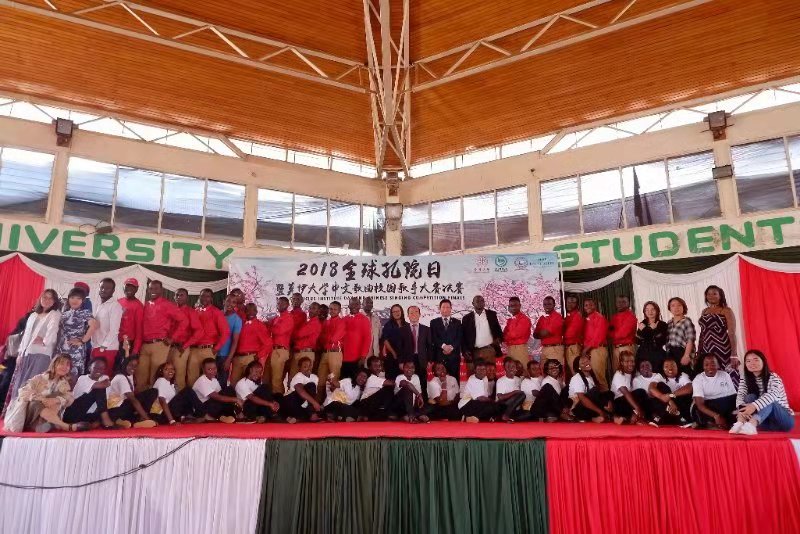 To celebrate the 14th anniversary of the Confucius Institute, the Confucius Institute at Moi University in Kenya held the 2018 Confucius Institute Day and Chinese Singing Competition finals on Sept 29 in Eldoret. Moi teachers and students participated, resulting in a colorful and entertaining display of Chinese and Kenyan cultures.
Zhuo Wu, chairman of the Kenya Chinese Chamber of Commerce, and Bao Ping, chairwoman of the Kenyan Chinese Art Troupes, attended the event as distinguished guests and judges.
The Moi University choir performed the Kenyan folk song, Jumbo, as well as the Chinese folk song, Usuli Boat Song, incorporating Chinese characteristics into their performance.
Fierce competition among the contestants meant the judges had to carefully deliberate the merits of each performance. Eventually, Ruth Kipchumba won the crown with a wonderful rendition of Moon Represents my Heart. It is not an exaggeration to say that her beautiful voice deeply touched those in the audience.
Eddyglen Ligawa and Marie Sangona, with their charismatic performance of Just Meet You and Exists in My Song were the first runner up and second runner up, respectively. In addition, five second prize winners and eight third prize winners were selected.
At the end of the event, the guests took to the stage to present awards and prizes to the winners. Huang Peixi, dean of the Confucius Institute at Moi University, delivered a moving speech to celebrate the successful completion of the event.