Sun's suit sparks controversy
Share - WeChat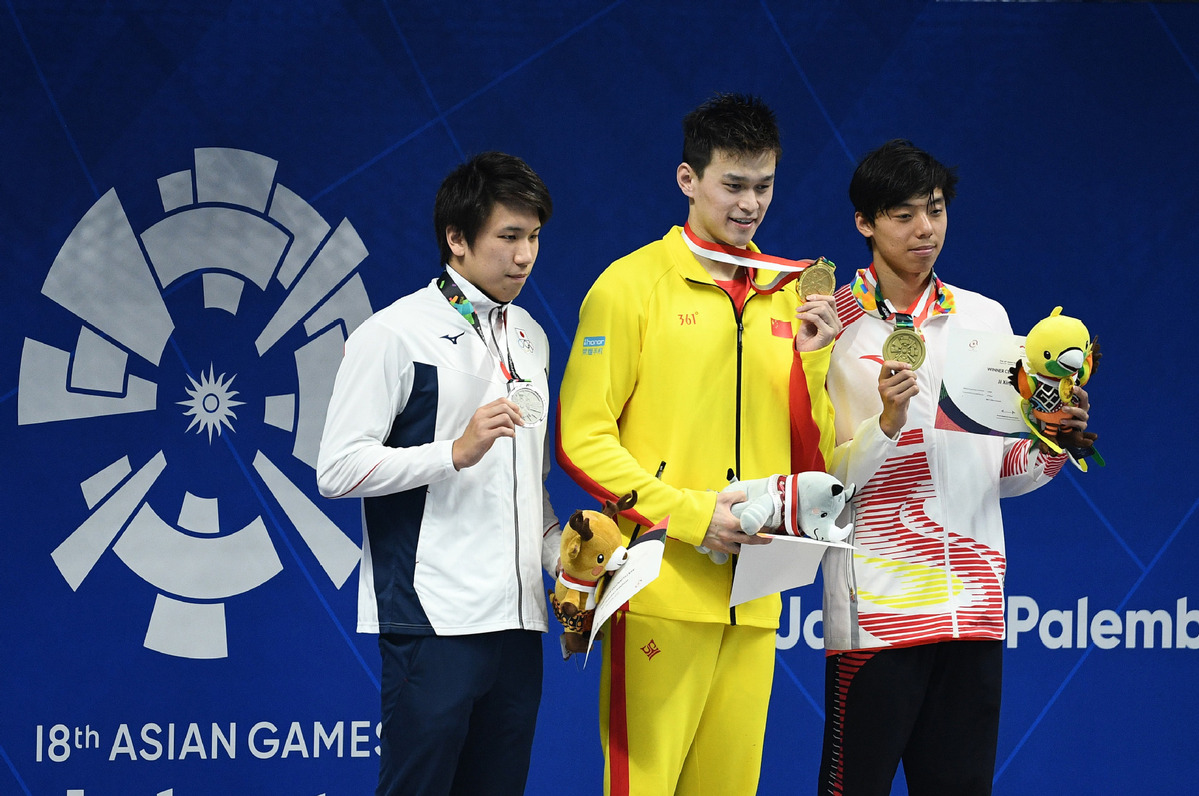 While Sun Yang has done his country proud in the pool so far at the Asian Games, the superstar has stirred up some controversy with his sartorial choice.
The 26-year-old powered to victory in the 200m freestyle final on Sunday to complete the 'golden grand slam' of 200, 400 and 1500 titles at the Asiad, world championships and Olympic Games.
Sun's patriotism then won over more hearts as he insisted the Chinese flag be raised a second time after a technical fault saw the national colors of the three medalists flop to the floor.
Sun's choice of tracksuit on the podium also got social media chattering after viewers couldn't help but notice his yellow 361° outfit differed from the white ANTA uniform worn by teammate Ji Xinjie, the bronze medalist.
ANTA is the official uniform supplier of Team China, while rival Chinese brand 361° is Sun's personal sponsor and an official partner of the Games.
"For sports, it is very important to obey the rules-and that includes the associated business rules," sports industry expert Wang Qi wrote on Weibo.
"While the whole Chinese delegation is wearing the white-and-red uniform of ANTA, only Sun Yang chose a yellow outfit of 361°. It appears like a violation of the rules."
ANTA also waded into the argument, releasing the following statement: "As the official partner of the Chinese delegation and the Chinese Olympic Committee, ANTA designed the uniform for Chinese athletes on the podium.
"We believe that the Chinese delegation should react fairly to the violation of regulations."
Neither the Chinese delegation nor 361° have responded.
The 361° logo is ubiquitous in Jakarta, with the company providing volunteers, officials, journalists and torchbearers with all manner of equipment, including shoes, shirts and backpacks.
ANTA has been Team China's official partner at Olympics and Asiads since 2009; Sun has been contracted to 361° since 2011.
He is not the first Chinese athlete to face such a commercial dilemma.
At last year's Chinese National Games, basketball players Zhou Qi and Guo Ailun were ordered to cover up a sponsor's shirt they were wearing underneath their Liaoning team uniform as they were presented with their gold medals by CBA chairman Yao Ming.
Badminton megastar Lin Dan also faced a similar conflict of interest after signing an endorsement deal with a rival of team sponsor Li Ning.
The mini-furor in Indonesia, however, couldn't detract from Sun's stunning grand slam feat.
"I've waited eight years for this title," he said after clocking 1 min 45.43 sec to finish just over a second clear of silver medalist Katsuhiro Matsumoto of Japan.
"It's a perfect result, a dream come true. It's unbelievable."