Trade concerns must not weaken confidence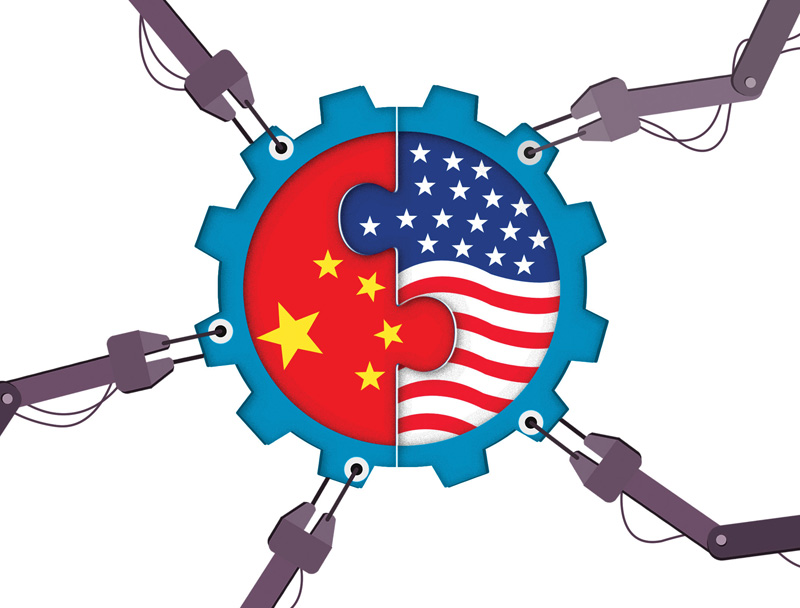 Despite challenges, there are a thousand reasons to make China-US relations a success, and not a single one to break them
Does US President Donald Trump have the correct idea about gain and loss?
"Last year, we lost $500 billion on trade with China," Trump has said. According to US statistics, last year, the US imported about $505 billion worth of Chinese goods and exported about $130 billion of goods to China, a difference of about $375 billion. So how could it lose $500 billion?
Now let us take the year 2015 as an example. The United States exported goods worth $116.2 billion and services valued at $47.9 billion to China, and its income through companies in China was $355.8 billion-a total of $519.9 billion. China, on the other hand, exported goods valued at $481.9 billion and services worth $15 billion to the US, and its income via companies in the US was $25.6 billion, which added up to $522.5 billion. Almost the same amount.
More interestingly, the top 10 exporters in China to the US are not Chinese mainland companies but original equipment manufacturers funded by investors from Taiwan, Singapore or the US.
Futile argument for wrong cause
Miscalculation leads to misjudgment. Misjudgment leads to wrong policy. And this is true for the Trump administration. Still, many argue the US does need to be tough with China, because China has taken advantage of the US by violating World Trade Organization rules and stealing its technologies.
But does the US hold the correct view on WTO rules?
Since it joined the WTO in 2001, China has substantially reduced import tariffs. In fact, by 2010 it had fulfilled all its tariff reduction commitments-reducing average tariff level from 15.3 percent in 2001 to 9.8 percent, and average tariff rate on farm products from 23.2 percent to 15.2 percent, or about one-fourth of the global average and far lower than those imposed by developing countries (56 percent) and developed nations (39 percent).
You could challenge that by saying China imposed higher automobile tariffs than the US did. I acknowledge the first half of the argument but disagree with the latter half. China entered the WTO as a developing country, so it would have been unrealistic, rather unfair, to demand absolute reciprocity between China and the US in terms of market access.
Besides, China may be the second-largest economy in the world, but its per capita GDP still ranks the 71st globally. Some 30 million people in China still live in abject poverty. And it has to create about 15 million urban jobs every year, and take measures to make life easier for about 87 million people with disabilities. Steven Brill, a New York lawyer and journalist, discusses the poverty problem in the US since the 1960s in his book Tailspin. So what does Tailspin say is the poverty line in the US? For a household: $48,500 a year. But in China it is $4,080 a year, which means one-twelfth of the US standard.
Foreign firms to benefit from lower tariffs
The Chinese authorities recently announced the lowering of tariffs on 1,449 import items, covering almost all aspects of daily consumption, including clothing and footwear, home appliances, food and beverage, cosmetics and personal care products.
In this round of reduction, the average tariff rate of the goods involved was reduced from 15.7 percent to 6.9 percent. In particular, the average tariff rates for cars and auto spare parts were reduced to 15 percent and 6 percent, respectively.
Moreover, China has vowed to increase its imports. In November, it will host the first China International Import Expo in Shanghai, opening up its market wider. And in the next 15 years, it is expected to import $24 trillion worth of goods. All this means more benefits for foreign companies.
The other major grouse the Trump administration has is related to intellectual property rights protection. But does it hold the correct view on the issue?
When China joined the WTO, it also entered into the Agreement on Trade-Related IPR to bring its IP laws to the international level. China was also keen to transition from being a manufacturing-based economy to an innovation-led economy, which it knows is possible only if it allocates more funds to and expands its research and development sector.
Accordingly, China has made IPR protection the centerpiece for improving the property rights protection system. Last year, it paid $28.6 billion for IP use, and recently it revised the Trademark Law and Law Against Unfair Competition to further strengthen IPR protection. According to the latest World Intellectual Property Organization data, Chinese companies registered more than 1.3 million patents in 2017, an increase of 14.2 percent year-on-year.
Interestingly, the top filing company at the European Patent Office last year was Chinese tech giant Huawei. In high-growth sectors such as blockchain, China filed more than half of the 406 blockchain-related patent applications last year.
Many Western businesses have claimed that pursuing IP cases in Chinese courts is not worthwhile, as the damages awarded are too small. Some estimates indicate that patent holders currently receive about 36 percent of the damages they seek in litigation, with compensation awards averaging about $12,400 and legal fees being between $1,550 and $4,650.
Higher damages for IPR violations
But last July at the National Financial Work Conference, President Xi Jinping said that China "must step up efforts to punish illegal infringement of IPR and force infringers to pay a heavy price". That was reflected in the proposed amendment to the Patent Law, which is still under review. It increases the damages in IPR cases from $1,550 to $155,000-to a maximum of $775,000. And in a landmark case, three Chinese shoemakers were ordered to pay New Balance $1.5 million for copying the sneaker brand's logo.
So why does the US still accuse China of IP theft and forced IP transfer?
China's foreign investment regulations have no mandatory requirement of technology transfer. Those who accuse China of forced technology transfer have never presented even one specific case as an example. As for the technologies obtained through commercial cooperation, they are the outcome of voluntary deals between companies, and have nothing to do with forced IP transfer.
What about the Trump administration's view on market access?
The Trump administration criticizes China for "closing" its market. If that is true, how could foreign investors register nearly 30,000 new companies in China in the first half of this year, up 96.6 percent year-on-year? Capital doesn't flow into a market with an unattractive investment environment and poor profit prospects.
Being a latecomer to market economy, China does need to improve its business environment. But China has been taking every possible step to do that. For instance, the latest negative list has reduced the restricted items for foreign investment by 24 percent to 48.
A broader market is unfolding in China
This year marks the 40th anniversary of China's reform and opening-up. At the 2018 Boao Forum for Asia, Xi reaffirmed that China will resolutely advance reform and opening-up while announcing a series of major measures for further opening up the Chinese market. A broader market is unfolding.
All said and done, thanks to the foundation laid by the previous generations both in China and the US and the expectations of peoples in both countries, I believe the US and China will eventually resolve their trade disputes and resume their win-win partnership.
As a Western saying goes, there's nothing new under the sun. China and the US have witnessed many difficulties and challenges during their nearly four decades of diplomatic relations. From Jimmy Carter to Ronald Reagan, from George H.W. Bush to Bill Clinton, China-US ties have gone through cyclical motions. From the 1980s through the end of the 20th century, I can cite many examples, such as the Milky Way Incident (1993), former Taiwan leader Lee Teng-hui's visit to the US (1995), the Taiwan Straits missile crisis (1996), US bombing of the Chinese embassy in Belgrade (1999), which put Sino-US ties to test.
The EP3 aircraft collision over the South China Sea on April 1, 2001, triggered Chinese people's indignation at the US. In the same year, George W. Bush told the ABC in an interview on completing 100 days in office that the US would "do our utmost to help Taiwan defend itself". Those were indeed tough times. But joint efforts for and pursuit of healthy bilateral relations helped the two countries to overcome those difficulties.
Cooperation trend too strong to be stopped
It is true that for the US, China today is a "strategic competitor", not the "constructive strategic partner" it was at the turn of the century. But then consider the following facts:
In 2002, only 230,000 Chinese visited the US. In 2017, the figure rose to 3 million, a 13-fold increase. Before 2008, China's investment in the US was less than $500 million; by 2016 it had risen to $46 billion. From 2000 through 2015, Chinese companies in the US employed 100,000 local people.
Which means incidents and policies can sometimes disrupt the trend of China-US cooperation but never stop it, because the driving force of common interests does not change. Apart from the many positive examples in bilateral fields, there have been quite a few successful cases of US-China cooperation on regional and global issues, such as climate change, counterterrorism, epidemics, narcotics control, the Korean Peninsula nuclear issue and the Iran nuclear deal-albeit Trump has pulled the US out of the Paris climate accord and the Iran nuclear deal.
By saying so, I do not mean to downplay the challenges we're facing but to emphasize that we need a historical perspective to analyze the situation we are in today.
To conclude my argument, I would say people's will overwhelms politicians' prejudice and finally determines the policy. China-US cooperation serves the interests of both sides.
And "there are a thousand reasons to make the China-US relationship a success, and not a single reason to break it".
The author is an expert on international studies.