Trade threats part of the US playbook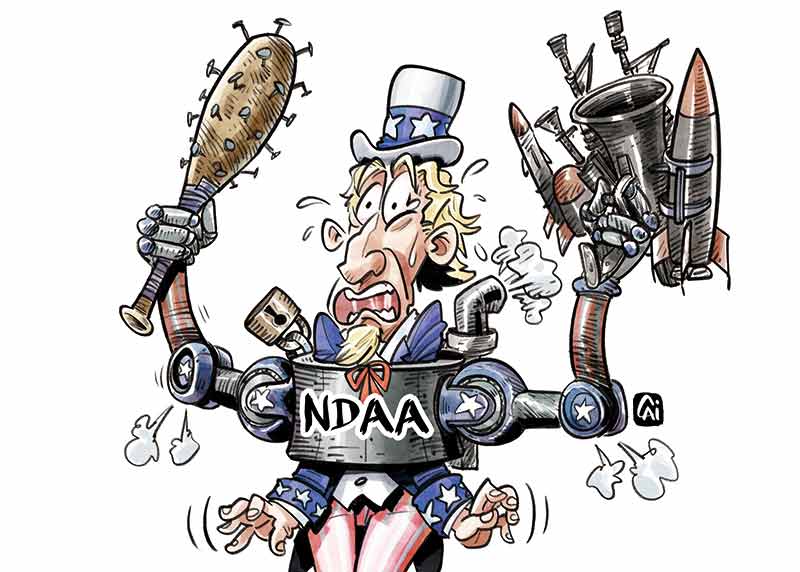 Stop me if you've heard this one.
The United States, despite its decades-long status as global superpower and astronomical military budget, hypes up the threat of a foreign country — economic or otherwise — in an attempt to maintain its status as hegemon. To do this, it employs scare tactics and strong-arm measures to force a conflict and destabilize its target before the latter has a chance to develop. Before long, the country has seen its growth halted and its industries stalled. "Problem" solved. And wouldn't you know it; the US gets to stay at the top of the food chain.
The latest overtures in the US-China trade dispute have an all-too-familiar refrain, and it's ordinary working people who will be feeling the sting. Last week's announcement of a 25 percent tariff on $16 billion in Chinese goods was responded to in kind, leaving the countries at yet another impasse. But every new declaration by the US — and reciprocal action by China — carries severe repercussions. Already businesses are pulling up roots and moving elsewhere to avoid tariffs leveled by China, and the paltry subsidies from the US are doing little to offset the pain. Meanwhile, China is seeking out new markets for its products, leaving its former suppliers in the States permanently without a buyer. These are the benefits a trade war reaps.
It bears repeating the figures for the trade deficit between the two countries are wildly overblown. Due to an old, outdated calculus for determining the value of imports and exports, the $375 billion deficit US President Donald Trump keeps harping on could be effectively cut in half with a new, more accurate set of standards. This would change nothing about the existing relationship, yet still fulfills the demands of the US administration — you'd be forgiven, then, for thinking the "fire and fury" over trade is little more than hot air.
Yet the bluster continues. US citizens are subjected to an endless tirade of rumor and invective, hearing one thing from their government but making very different real-world observations. As factories close and people lose their jobs, blame keeps getting sent China's way for a conflict the US started. The human cost of this power struggle — a struggle that only exists in the mind of one participant — is plain to see, but the offensive against China continues unabated.
These attitudes have only been confirmed with this year's National Defense Authorization Act, the budget bill for the country's military that flew through the legislature and became law this week. The actual language of the bill makes clear a "long-term strategic competition with China" is the US' "principal priority". It also lays out a regime of suspicion toward Chinese enterprises doing business in the US, as well as the Chinese language programs supported by Confucius Institutes in US universities. Keep in mind this was the "watered-down" version of the bill — previous drafts had even harsher provisions for China! Should this be viewed as anything but deliberate antagonism? Are these the actions of a good-faith partner willing to engage in dialogue and diplomacy?
Even after all my time living in the US and studying it carefully, I must say this kind of chest-thumping still disappoints me. In my conversations with people back home, it was rare to find someone stuck in this aggressive mindset — most thought we would be better served by peaceful interaction with other countries, drawing down our role as "world police" and rebuilding tattered relations. Sad to say it's a rare occasion when US policy lines up with the wishes of its people. Usually, we're left shaking our heads at how our interests diverge from the folks in Washington.
But this is the US playbook, no matter who's in charge — finding an "enemy" and engaging in full-on assault, whether through military might or economic coercion. We saw a similar phenomenon with the nearly century-long rivalry between the US and the Soviet Union. In the aftermath of the Cold War, this took the form of military adventurism in the Middle East and sanctions on "smaller" countries that refused to play ball. As China has grown by leaps and bounds, especially in recent years, it was inevitable the US would turn its attention back eastward.
Frankly, it's surprising this is only happening now. US politicians have been heating up their rhetoric against China for quite some time, ginning up opposition and using the country as an excuse for its own domestic woes. Former president George W. Bush called China a "competitor", but was too busy massacring civilians in Iraq and Afghanistan to act on this oratory. Despite Bush's successor Barack Obama's more conciliatory tone, he too fell in line with imperial consensus, drafting a much-discussed scheme for a "pivot to east Asia" seen by many as a containment plan against China.
All this scaremongering set the stage for Trump's belligerence. If his predecessors had treated China like an equal partner rather than a rival superpower, it's likely the current president would have a much harder time selling his haphazard strategy. He might even have lost the 2016 election without China to point to as a scapegoat. Politics does not happen in a vacuum, after all, and the US government's current attitude toward trade has deep, deep roots.
If the US wants to continue down this path, going back on its commitments and antagonizing countries based on feverish whims, it's only a matter of time before its allies get fed up. How much more will Trump unilaterally reverse course before his administration's unreliability becomes clear? I'm not sure, but it seems he is more than happy to repeatedly, brazenly test the waters with no thought to the consequences.
Despite the rhetoric coming from the White House, China did not court this clash. It has honestly, steadily petitioned for friendlier, fairer dealings. It's up to the rest of the world to figure out whom to believe — the consistent, reliable trade partner advocating for peace or the powder keg of a country making wild, frantic pronouncements on a daily basis.
I know which I'd choose.
The author is a copy editor with chinadaily.com.cn.
The opinions expressed here are those of the writer and do not represent the views of China Daily and China Daily website.