Pulling the strings of Trump's trade war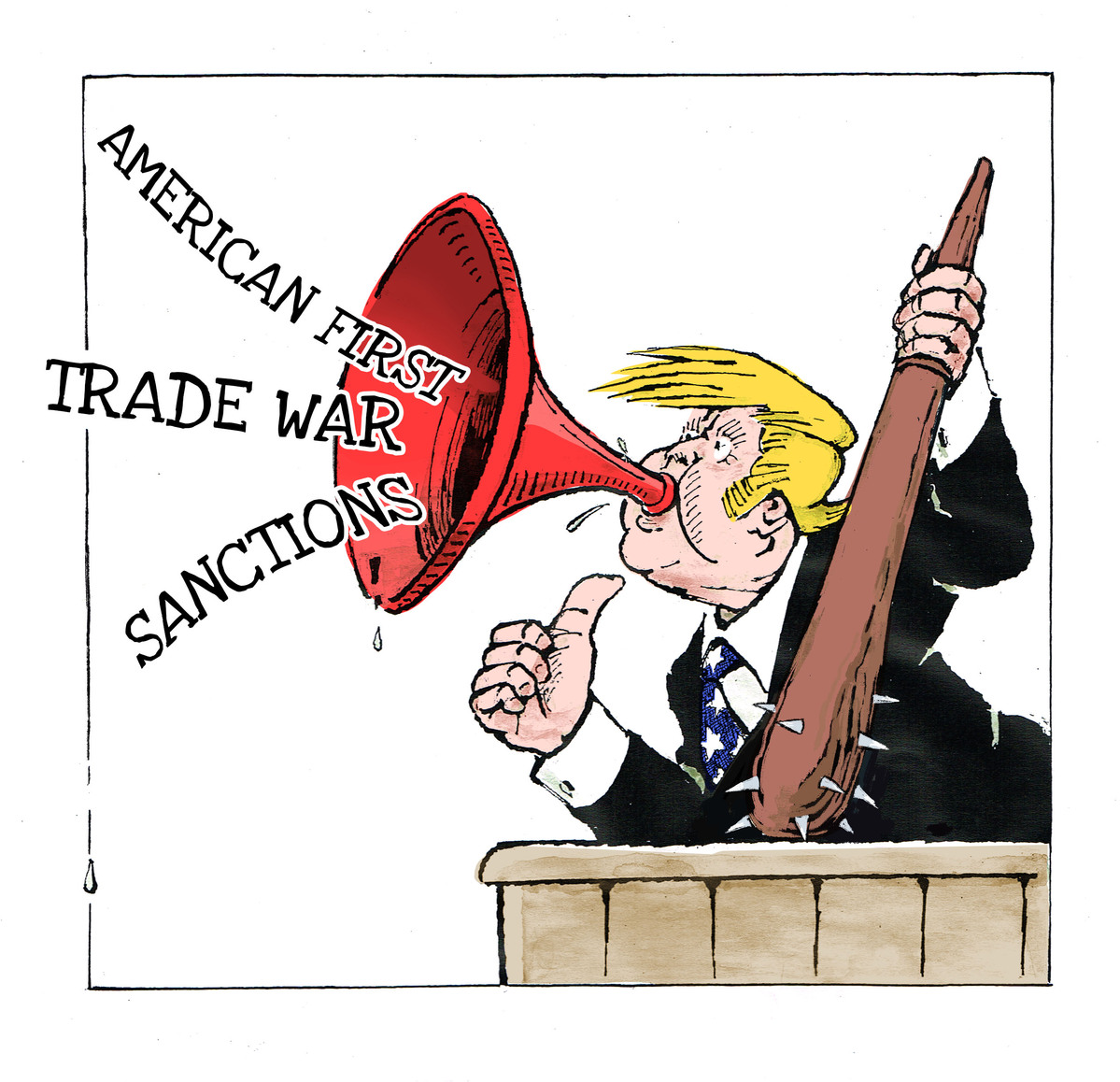 It is an ominous sign that the White House adviser most closely associated with President Donald Trump's latest assault on free trade is the author of Death by China, a 2011 diatribe that accused Chinese exporters of unfairly flooding US markets.
Trump stunned international markets on Thursday when he formally signed proclamations to impose a 25-percent tariff on imported steel and 10-percent on aluminum. Earlier he wrote on Twitter that "trade wars are good, and easy to win".
China, which is far from being the only exporting country in Trump's sights, has so far responded with restraint. Zhang Yesui, spokesman for the National People's Congress, China's top legislature, told journalists that China did not want a trade war with the US, "but if the US takes actions that hurt Chinese interests, China will not sit idly by".
In its initial measured response, Beijing sent the message that the United States should abide by multilateral trading rules and contribute to international trade and economic order.
A recent visit to the US by Liu He, a member of the Political Bureau of the Communist Party of China Central Committee, was seen in the US as aimed at averting a trade war. Liu's message was that China wants cooperation and remains committed to reform and opening-up.
Neighbors of the US and its closest allies, from Canada to European Union countries, have generally delivered a much more aggressive response to Trump.
Politicians in Canada, which sells most of its steel to the US, had described the tariffs as unacceptable although Canada and Mexico are initially exempted, pending the renegotiation of the North American Free Trade Agreement. And the EU, faced with Trump's follow-up threat to slap new taxes on EU carmakers, is said to be already considering upping tariffs on leading US brands.
White House watchers have detected the influence of Trump's trade adviser Peter Navarro, author of Death by China, behind the president's latest protectionist blast. The president's "trade war" rhetoric is seen as an indication that Navarro and other trade nationalists in the administration have won an internal battle with globalists such as Trump's adviser Gary Cohn, who heads the National Economic Council and has offered to resign.
The anti-Chinese tone of Navarro's 2011 book, and a related documentary film the following year, was echoed by Trump during his election campaign in which the economist served as a policy adviser. He was rewarded with the post of director of the White House National Trade Council.
Navarro's accusations that China was "guilty" of currency manipulation and abusive trade policies were echoed in Trump's campaign speeches.
His book and the film both were criticized by some people, including those who expressed reservations about economic relations with China.
"There's an important political argument at the core of Peter Navarro's agitprop documentary, Death by China," Sam Adams wrote in the Los Angeles Times. "But it's drowned out by xenophobic hysteria and exaggerations so rampant it becomes impossible to tell light from heat."
Economics commentator Jonathan Pain said on the US channel CNBC that Navarro may have gained the upper hand in the clash with the pro-trade camp in the White House. "I think we are likely to see more surgical, and specific American trade measures or tariffs against Chinese goods," he said." (Navarro's) mindset and his opinion appears to have won the battle within the White House. It is very important that we understand the ramifications of that."
On the Fox News Channel, the president's favorite, Navarro was assuring viewers that he was at least an equal opportunity protectionist, insisting that not even close allies would be exempted from the tariffs on aluminum and steel.
Navarro's apparent rise has prompted speculation that he might soon be elevated to the post of assistant to the president. However, as the US' trade partners wait for further bombshells from the White House, globalists in the US are pushing back, reminding the president that, far from being a pushover, a trade war is the kind of conflict nobody can win.
The author is a senior media consultant for China Daily. Contact with the writer at editor@mail.chinadailyuk.com