Group's NGO status to help solidify ties
Cooperation between countries holds promise, says deputy president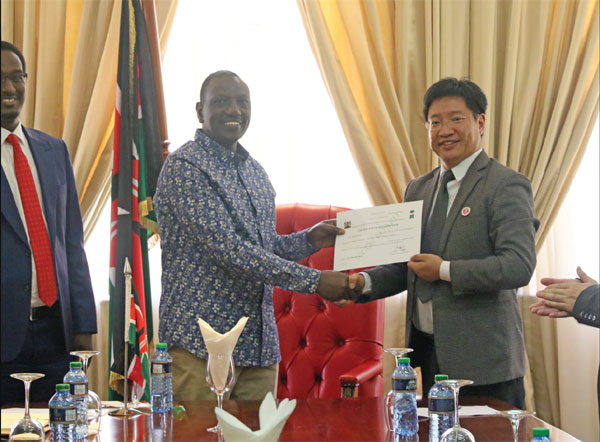 Applause arose from the hall when Zhuo Wu, chairman of the Kenya Chinese Chamber of Commerce, received the group's NGO certificate from Kenyan Deputy President William Ruto at Ruto's residence in Nairobi on Feb 23.
"China is a great country and has made particularly great achievements in the recent dozens of years," said Ruto. "It has been dedicated to helping other developing countries. China has become the largest investor in Kenya."
He said he was happy to meet representatives of member enterprises of the Kenya Chinese Chamber of Commerce during the Chinese Spring Festival holiday and hoped Chinese enterprises would become more involved in the economic development of Kenya.
"The two countries enjoy a long history," Ruto said. "I hope such a relation will be strengthened and the member enterprises of KCCC will contribute more to the trade balance between the two countries."
He said he hoped that the KCCC could be an official platform for Kenyan companies to deal with Chinese companies, and that the organization would play a constructive role in solving disputes between companies of both countries.
Zhuo responded that all members of the KCCC would be involved in the development of Kenya.
According to Zhuo, KCCC members are involved in the sectors of engineering contracting, trade and logistics, industrial manufacturing, real estate, tourism, flower exports and agricultural planting, processing and export.
"The KCCC is willing to abide by the laws and regulations of Kenya and contribute to the four development goals of grain security, lowcost housing, manufacturing and medical insurance," he said.
Fazul Mahamed Yusuf, executive director of the Kenya NGOs Coordination Board, said, "After strict and sufficient reviews, the KCCC is qualified for NGO status." The board is responsible for registering, facilitating and coordinating all national and international NGOs operating in Kenya.
"It has passed all the legal procedures and completed the registration," the executive director said at an earlier signing ceremony to authorize the certificate.
He encouraged the KCCC to give full play to its advantageous status of an NGO and contribute more to China-African cooperation, Belt and Road Initiative construction and economic and cultural exchanges between China and Kenya.
"The KCCC will actively set up a platform according to the laws and regulations and respond to the Belt and Road Initiative of the Chinese government, provide services for the enterprises and economic exchanges of the two countries, and contribute to the realization of Kenya's Vision 2030," said Zhuo, the KCCC chairman.
panzhongming@chinadaily.com.cn