Graduate steers change from grassroots up
Share - WeChat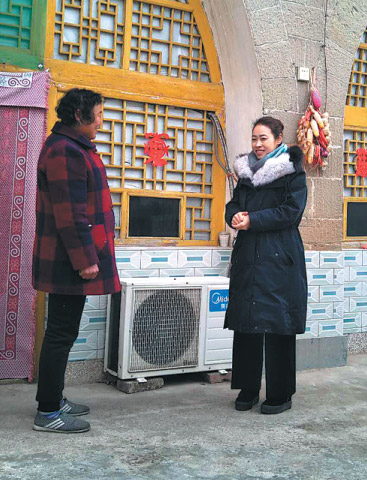 While many college graduates prefer to find jobs in cities, some choose to follow a different path to fulfill their dreams-by moving to remote villages and serving those at the grassroots.
Gao Yuan, 36, settled in a small village in Huangling county, Shaanxi province, more than a decade ago as a xuandiaosheng, a public servant governed by strict selection procedures, and was made a village cadre by the provincial government.
"The countryside offers me a bigger stage to contribute. I've learned a lot since coming here," she said.
In 2004, Gao graduated from Yan'an University with a major in economic management. Unlike her peers, she was determined to work in a rural area.
The central government has been encouraging distinguished graduate students to become cadres in the countryside as a way of improving rural governance. Gao is among those who have answered the call.
After working in Liujiachuan village for years, Gao now knows the place like the back of her hand. But when she first arrived, things were difficult and the tough living conditions were hard to handle.
A kang, a bed made of bricks with an interior cavity providing heating, and primitive stoves were the only sources of heat in winter. There was no tap water, which meant people had to carry water from a nearby well. A lack of roads and public transportation also made it difficult to get around.
As a newcomer, Gao was unfamiliar with the surroundings and had no friends. "I was desperately lonely. I didn't feel like doing anything," she said. "Luckily, the warmhearted people and my leaders helped me get over all the difficulties, and I was treated like one of the family."
Gao has witnessed dramatic changes in the village. Before 2008, many farmers still relied on crops for an income, while others abandoned the land and left for towns to find temporary jobs.
This agriculture-oriented development mode generated low profits and, more important, was a waste of labor and tourism resources, as the village is just 2 kilometers from the Huangdi Mausoleum, the most important ancient grave site in China.
After evaluating the village's strengths, cadres decided to boost rural tourism by improving infrastructure facilities and exploring local attractions.
So far, 39 households have opened restaurants, earning an average annual income of 10,000 yuan ($1,565). This has significantly lifted living standards in Liujiachuan.
Wang Yumin, one of the first to open a restaurant, has won respect for his fair prices and good, local dishes. "During the summer, the peak season for tourism, guests have to phone up and reserve a place in advance," he said. "The money I make from the restaurant is enough to cover the tuition of my two children."
Besides a meal of chicken and fresh vegetables, tourists visiting the Huangdi Mausoleum can also immerse themselves in rural life. The village offers Airbnb-style accommodation as well as tours of a tofu factory and honey processing plant.
In November, Liujiachuan was listed as a "cultural village" and named a "pioneer of rural tourism" by the China National Tourism Administration. It has also won provincial awards.
Gao said she believes the progress is part of a larger picture.
The country has made efforts in poverty alleviation and rural development over the past five years, and in December, the central government unveiled an ambitious timetable for a key strategy to revitalize China's vast countryside.
Last year, cadres in Liujiachuan stepped up efforts to build a complete tourism chain. Orchards where tourists can pick fruit, and standard hotels have been established to better meet demand, and plans are underway to construct "food streets" and cultural gardens.
"Our villagers are enthusiastic about the future," Gao said. "They are brave and diligent in embracing new things. My job is to outline the road map and lead them onto the right path."