UN highlights election as cornerstone of stability in Libya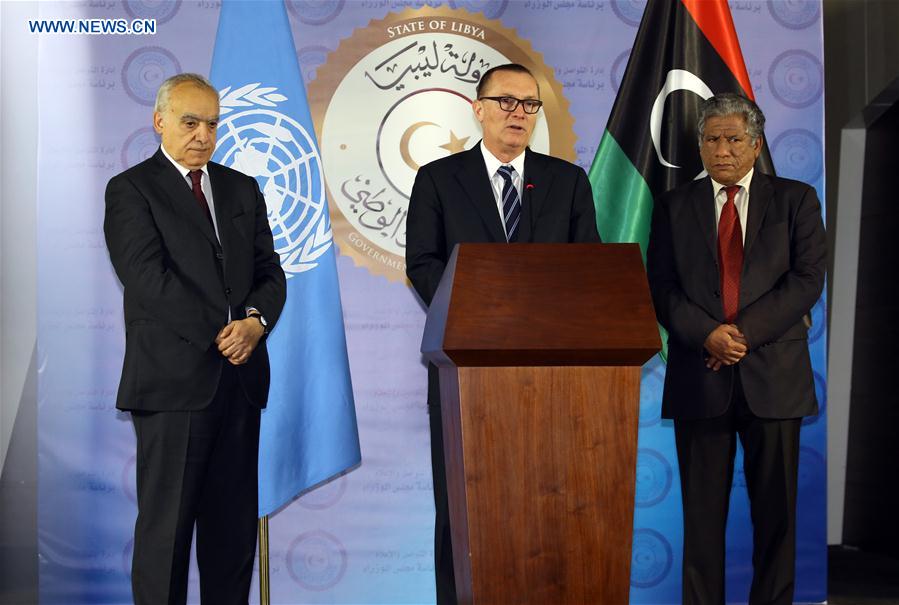 TRIPOLI -- UN Under-Secretary-General for Political Affairs Jeffrey Feltman said on Wednesday that holding elections is the only way to bring stability in chaotic Libya.
Feltman made his remarks at a press conference following a meeting with Libyan UN-backed Prime Minister Fayez Serraj in the capital Tripoli, where the two officials discussed the latest political developments in the country and agreed on the importance of issuing elections law and constitution referendum law.
"The UN Secretary-General Antonio Guterres is committed to supporting the Libya people as they work toward a referendum on the constitution, holding elections and local and national reconciliation," Feltman said.
"We always encourage the election option. There are strong indications expressed by Libyan parties and leaders to hold elections, as the only way to comprehensive stability," he said.
"The second point is about the great interaction in the voter registration process, which demonstrates commitment of a large segment of Libyans to the elections next year," Feltman added.
"The United Nations supports the road map in Libya and will provide unlimited technical support for the democratic process next year," the UN official noted.
Libya has been suffering political division and unrest since the fall of Muammar Gaddafi's regime in 2011. The North African country has been struggling to make a democratic transition amid escalating violence and chaos.
Last September, Ghassan Salame, the head of the UN Support Mission in Libya, proposed an action plan to end Libya's political crisis, which includes amendment of the UN-sponsored political agreement and holding presidential and parliamentary elections.
The Libya Higher Commission of Elections recently announced that nearly 2 million voters have registered in the Commission's election register.