A new chapter
Growth-enhancing sectors seen as key to realizing potential of China-Africa investment partnership
It was crystal clear as the second China-Africa Investment Forum wrapped up in late November at the Four Seasons Resort in Marrakech, Morocco, that the economic partnership between China and Africa was about to begin a new chapter that will be equitable and beneficial for both sides.
This followed expression of keen interest, by the more than 500 high - profile delegates who attended the two-day event, in improving bilateral trade and business relations between the two partners. The delegates from Africa and China were drawn from various fields, including politics, business and academics.
From the discussions, it was evident that, despite Chinese investors being present in every sector in Africa, either traditional or innovative, the relationship between the two partners has not reached its full potential.
According to McKinsey & Co, a worldwide management consulting company, revenues generated in Africa by Chinese companies could increase by 144 percent by 2025, an indication that the time is ripe to start the new chapter of partnership.
Additionally, with more than 1 billion people and competitive labor costs, Africa is seen as epitomizing the future of industry and the perfect place for welcoming the Chinese industry, at a time when global value chains are evolving.
The rise of global value chains - the people and processes that are part of production of goods or service as well as the international supply and distribution processes - enables developing countries to become part of the production chain without having to produce a final product. As a result, developing countries can export value-added manufacturing.
To fully exploit Africa's growth potential in the framework of China-Africa relations, the delegates agreed that there is a need to promote partnerships in new growth-enhancing sectors and to encourage coproduction and local industrial sourcing. This is in addition to creating financial and legal frameworks that promote trade and industrial success, they agreed.
Moulay Elalamy, the Moroccan minister of industry, investment, trade and digital economy, says Chinese and Africans share the same quest for development, and their strategic interests seem to converge. Africa is looking to China in order to realize economic development and job creation, while China needs Africa in order to improve its competitiveness as well as gain access to the market of more than 1 billion people, Elalamy says.
The African population is expected to double by 2025, with one in every five people globally expected to be an African. Urbanization, a growth engine, is also expected to grow significantly. It has been estimated that 50 percent of Africans will be living in cities by 2030.
"Because of its potential and the multiplicity of its needs, Africa is undoubtedly a development force for China," Elalamy says.
As an economic powerhouse and a strategic global player, China is undergoing economic structural changes, including increased emphasis on domestic consumption.
Additionally, the relocation of part of Chinese industry is seen as becoming increasingly necessary, in efforts to conserve the country's competitiveness. The growth of the technology sectors and those related to the emergence of the country's middle class is also booming.
During the 19th National Congress of the Communist Party of China in October, General Secretary Xi Jinping said China was committed to the coordinated development of new types of industrialization, computerization, urbanization and agricultural modernization.
This is in addition to promoting economic globalization, with the aim of participating in it, and developing a high-level open economy. These structural changes are seen as presenting great opportunities for Africa.
To take full advantage of the opportunities, Elalamy says, Africa should work on industrializing and restructuring its exports, in order to reduce the prevalence of raw materials, which accounts for 80 percent of its exports.
"The China-Africa partnership has reached a maturity stage that allows it to migrate to a more strategic stage, in line with the opportunities and prevailing challenges," Elalamy says.
Paul Obambi, the founder and CEO of Sapro Group, an advertising company based in the Republic of Congo, says Africa is undoubtedly the next frontier and there is a need to open up the continent to partnerships with China, among other global partnerships.
He says the African partnership with China should focus on the private sector, which he sees as essential for economic growth. The African private sector should also take full advantage of the opportunities in the Chinese market, he adds.
Obambi says policymakers should establish a framework for the partnership that ensures that investments are mutually supported by government policy. Policymakers should also support Africa's private sector, he says.
"Similarly to the Chinese government, which fully supports its private sector investors venturing into Africa, African states should support its private sector in terms of structure and financing," Obambi says.
Mustapha Bakkoury, the council president of the Casablanca-Settat region in Morocco, says China is an ideal partner for Africa because the country has a positive trade balance with Africa and has developed technological know-how. This will ensure that the two partners will work toward a win-win situation and greater shared prosperity, Bakkoury says.
Despite the fact that China can serve as an industrial accelerator on the African continent, Bakkoury says there are certain principles that are central to development of any country, including having and valuing resources, human capital and financing. If a country lacks any of these, it must bring a partner like China on board to fill the gap, he adds.
Nevertheless, Bakkoury says, Africa should raise its game and bring itself closer to the development level across the world, which will be facilitated by new technology.
"If Africa is to realize its development potential, it has to provide a more comprehensive industrial policy that allows better evaluation of its natural resources and also capture part of the value-added by-processing, in order to finance its other needs like health, education and infrastructure," he says.
He says that since Africa consists of a rich variety of countries, Chinese investors should not approach the continent as one territory.
Bakkoury says African diversity should be addressed and the continent transformed into a source of inclusion and comprehensiveness, considering its exceptional demographic role over the near future.
"Despite the strong demographic growth and the expected doubling of the African population within the next few years, we need to bear in mind that population density is quite low and it comes with a set of challenges in terms of development. We therefore need to find infrastructure development frameworks that are adaptable for economic, general and specific industrial development," he says.
According to Bakkoury, African countries should consider regional approaches in their development initiatives.
Hakim Abdelmoumen, president of the Moroccan Industry and Automotive Trade Association, says Africa should define its strategies in order to reap the full benefits of its partnership with China.
"Within the Sino-African framework, China has defined its strategies very well. It is time for Africa to improve on its strategies at the national, subregional and continental levels," Abdelmoumen says.
Noting that China is committed to helping its private sector to expand in Africa, Abdelmoumen says the continent should leverage on geography in support of development goals, seeing Asia, the Middle East and Europe as the end point and Morocco as the entry gate. This would be a strong African strategy, Abdelmoumen says.
One of the unused opportunities in Africa, Abdelmoumen says, is the potential to produce agricultural products throughout the year because of its geographical location both north and south of the equator.
This point was echoed by MD Ramesh, the director of Singapore-based Olam International's South and East Africa regions, who says Africa should learn from China how it helped its small-scale farmers to increase productivity.
"Despite having good weather and human capital, Africa's yields ... compel the continent to import food to feed its population. Farming should be the first step toward industrialization, and China is willing to help the continent navigate through the challenges," he says
Ramesh says the next step should be adding value to agricultural produce. In addition, China can transfer cheap technology to Africa that can play a key role in improving the sector, and the continent's food distribution should be improved, he says.
"Africa can use Chinese mastery in farming, adding value to cheap technology as well as logistics and storage," he says.
Chen Jianhua, executive director of overseas investments for China-based Joyvio Group, says China has drawn experiences and lessons from its 30 years of opening-up and is willing to share these experiences with Africa.
"It is good that African governments provide Chinese investors with a consistent and reliable policy framework where everybody plays on the same level field. I believe Africa is full of quality entrepreneurs waiting for the opportunity to participate in economic development," Chen says.
He adds that Chinese private-sector investors will only be attracted to Africa if they are assured of a conducive business environment. With this in place, African governments will have done a lot to set the stage for businesses to flourish, he adds.
"We are ready to offer suggestions to African governments on good governance policies for supporting business, community and the country," Chen says.
Meanwhile, Helen Hai, CEO of the Made in Africa Initiative, says Africa should not worry about loss of jobs due to industrialization. She says that if jobs were to be affected, that would occur 15 years from now and would affect the service industry but not labor-intensive industries.
She urges African countries to borrow a page from China in pursuing their industrialization.
In 1978, the GDP per capita in India was 20 percent higher than China's, she says, but today China's GDP per capita is five times that of India's. Hai says this resulted from the two countries taking different development paths.
India took a service based development approach, growing at 4 to 5 percent per year, while China took the industrialization development path, growing at more than double digits, she says.
Hai says that because China's GDP per capita is expected to double by 2025, the country will be a high-income nation by then, at which point labor-intensive jobs will leave China. This will be a golden opportunity for Africa to position itself to absorb the jobs, she says.
edithmutethya@chinadaily.com.cn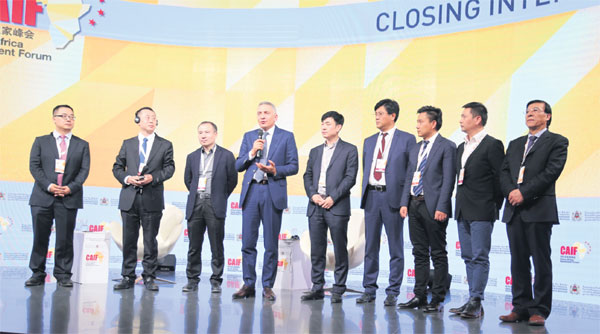 Moulay Elalamy (fourth from left), Moroccan minister of Industry, Investment, Trade and Digital Economy, with Chinese investors at the Second China-Africa Investment Forum in Marrakech, Morocco on Nov 28. Edith Mutethya / China Daily