Chinese company bets on lucrative low-cost housing in Kenya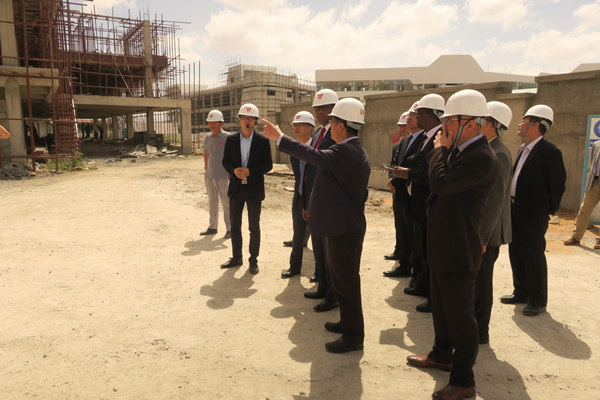 The Kenyan government is betting on a Chinese company to spur growth in the lucrative, but often shunned, low-cost housing sector in the country.
Speaking on Thursday while making a scheduled visit at China Wu Yi (Kenya) Precast Company Ltd, located about 26 kilometers from downtown Nairobi, Adan Mohamed, the cabinet secretary of industry, trade and cooperatives, said the company is critical to the government's plans of decreasing building costs in the next five years.
"The government wants to buoy the real estate sector and we are especially targeting first time home owners by addressing cost constraints. This new technology by the company will not only shorten the construction period by more than a third but also boost efficiency and address issues of sub-standard materials. This is fantastic," he said.
Mohamed said the government is keen on working with the Chinese contractor to address any bottlenecks that may hinder expansion to other regional markets. He revealed that the country is interested in building at least one million low-cost houses. According to latest survey, the sector has a deficit of more than 250,000 houses annually.
"We want to walk hand-in-hand to ensure such investors transform the local industry. The factory is going to use local raw materials and this will have a ripple effect to down the supply chain. This is a fantastic example of value addition."
Li Xuhang, the charge d'Affaires in the Chinese embassy in Kenya, said China's meteoric economic rise was on the back of expanded industrial capacity. "What we have seen today is just a start of it. China has adopted a policy to build and share prosperity with Africa. Four countries have been chosen as pilot projects for industrial cooperation and Kenya is one of them," he said.
He noted that the manufacturing company was an early beneficiary of this cooperation and that he believed the Chinese government will encourage more Chinese companies in Africa. "We want to participate in assisting the continent to realize it industrial ambitions," said Li.
Launched in August last year with seed capital of $100 million, China Wu Yi has established a building industrialization research, development and production base and building material supermarket project.
The company hopes to open the building material supermarket in March next year. So far, the project has so generated 300 direct jobs and 500 indirect ones. It stresses that it provides hi-tech, energy saving, environment friendly and high-quality buildings. Now it is producing precast building materials such as wall panels, staircases, lift shafts, foundation piles and hollow core slabs among others.
Lucymorangi@chinadaily.com.cn