Chinese calligraphy as seen through the eyes of a master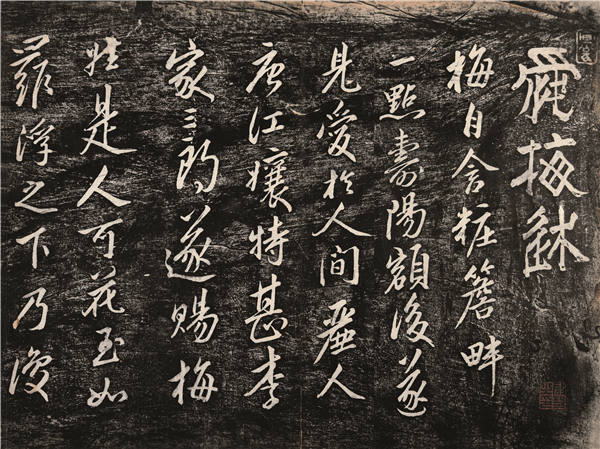 An ongoing show at the Guardian Art Center in Beijing provides a rare chance to see the history of Chinese calligraphy through the eyes of Qi Gong (1912-2005), who was best known as a calligrapher, connoisseur and scholar of Chinese art, especially calligraphy.

On display are about 230 pieces of rubbings from stone, wood and bronze inscriptions collected by Qi, who imitated this calligraphy frequently in his lifetime.

To copy works by reputed calligraphers is a must-do for those who want to improve their skills.

"Qi did not treat these pieces as part of his collection, but used them in his work," says Song Hao, general manger of the rare books, rubbings and manuscripts department at China Guardian Auctions.

Song and her team spent more than half a year studying these rubbings that were found either in between the pages of books or in boxes beneath a bed at Qi's apartment.

The rubbings on display include those from bronze ware that can be used to study ancient Chinese characters dating back 3,000 years, and from stone inscriptions often written by skilled as well as reputed calligraphers in ancient China.

Some of these pieces were gifts from his friends while many were bought from antique stores and auction houses.

"Qi was a master. He was not rich. But he still spent lots of money buying rubbings for research and practice," says Song.

Throughout his life, Qi devoted himself to learning and studying calligraphy. And because of his rich knowledge of Chinese culture and art, he was hired as a consultant by many museums, such as the Palace Museum and the National Museum of China.

Zhang Zheng, who lived with Qi for years, says it is not possible to find someone like Qi with so much passion for rubbings and epigraphy in today's internet age.

"It's very difficult to do research on epigraphy and rubbings from stone inscriptions. It needs a lot of knowledge and time. That's why fewer people are interested in it," he says.

The show features Qi's rubbings displayed in chronological order. It begins with rare rubbings from well-known bronze ware, followed by rubbings of stone inscriptions from different dynasties featuring various styles of Chinese calligraphy.

Qi's works and his comments on these rubbings are also on show.

Despite his skill in calligraphy, Qi was also known for his thoughts on calligraphy theories as well as on ancient Chinese poems.

Qi, who was born into the royal family of the Qing Dynasty (1644-1911), was akin to master painter Pu Ru, who was known for his Chinese ink paintings.

"Qi was a friend to many master painters of the 20th century in China. His knowledge of Chinese art was, to some extent, insurmountable. It all shows in his collection of rubbings," says Zhang.