Xiqiao Mountain: Hub for learning philosophy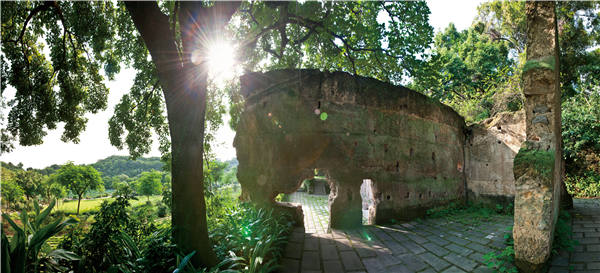 For half a millennium, Xiqiao Mountain in Guangdong province has been a key hub for learning the reformist philosophy of lixue, or Neo-Confucianism. Wang Kaihao reports.
There is an old saying in China: "No matter how high the mountain is, its name will spread far and wide if there is a fairy." Xiqiao Mountain on the outskirts of Foshan, a city in southern Guangdong province, is perhaps one such example.

Rated as a national AAAAA-level tourist site, the highest ranking, and honored as one of the "four famous mountains of Guangdong", Xiqiao Mountain, an extinct volcano, stands out not just for its natural beauty but also for the special place it holds in Chinese philosophy.

In late November, more than 40 scholars from universities and research institutions from both sides of the Taiwan Straits gathered at a forum at the foot of Xiqiao Mountain to celebrate the 500th anniversary of the site becoming a hub for the study of Neo-Confucianism.

After Zhan Ruoshui, an iconic figure in Neo-Confucianism during the Ming Dynasty (1368-1644), established the first private academy in Xiqiao in 1517, many more scholars gathered there over the following decades, and another three major academies were set up in the area.

Neo-Confucianism, commonly known in China as lixue, was prominent during the Song (960-1279) and Ming dynasties. It is a more secular and practical variety of Confucianism than previous schools, which often borrowed ideas from Taoism and Buddhism.

"Neo-Confucianism in the Song and Ming eras were closely connected with academies," says Wen Chunlai, a history professor at Sun Yat-sen University in Guangzhou, Guangdong's provincial capital. "When many academies were established in the Xiqiao Mountain, it naturally became an important location for the spread of the philosophy."

Wen is the executive director of the research institute of Lingnan culture at the university, which launched the forum. Lingnan (which means "south of the mountains") is a cultural term used mainly to describe geographic regions of today's Guangdong, Hainan provinces and the Guangxi Zhuang autonomous region.

"When we revive the best of traditional culture, we can find many elements in lixue that echo with the core values of modern China," he explains.