Tariffs on consumer goods to fall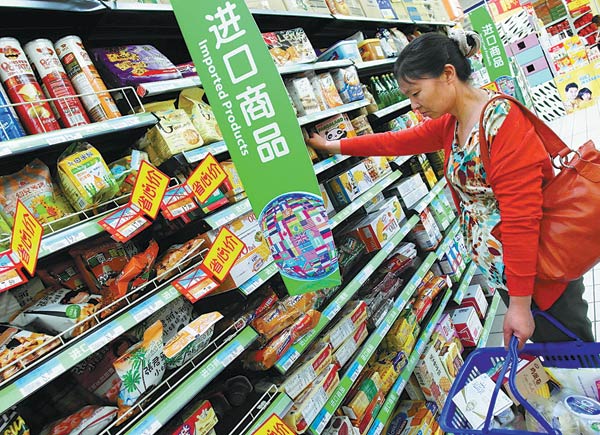 A customer selects imported biscuits, cookies and crackers at a supermarket in Yichang, Hubei province. [Photo provided to China Daily]
China will cut import tariffs on some consumer products by 9.6 percentage points beginning in December, as a measure to satisfy increasingly diversified domestic demand and to facilitate the consumption upgrade, the Ministry of Finance said on Friday.
The reduction of import tariffs will affect 187 tariff codes, including on food, health supplements, pharmaceuticals, garments and recreational products, and the average rate will decrease to 7.7 percent from 17.3 percent, according to the ministry.
Additionally, a tariff on some infant formula and milk powder products will fall from 20 percent to zero, while duties on diapers will drop from 7.5 percent to zero, according to a list on the ministry's website.
It is a further cut since 2015, when the government lowered the tariffs on consumer products including certain apparel, footwear, skin care products and diapers, which dropped by more than 50 percent on average.
The cut is in line with the country's policy to lower tariff barriers and its intention to boost domestic consumption of consumer goods, according to experts.
Ouyang Cheng, director of the Alibaba Cross-Border E-Commerce Research Center, said the reduction of import tariffs indicated the Chinese government's determination to support globalization and call for further opening-up, despite a rise in trade protectionism and anti-globalization around the world.
"It will help to expand China's imports as well as to share benefits from the fast growth of the domestic consumer market with developing countries. It will also provide more choices for Chinese consumers on diversified and personalized goods," said Ouyang.
The rapid development of Chinese cross-border e-commerce, especially the establishment of cross-border e-commerce comprehensive pilot zones, has provided experience for the government in adjusting import tariffs on consumer products.
Li Guanghui, vice-president of the Chinese Academy of International Trade and Economic Cooperation, said the move demonstrates China's efforts to shift from importing natural resources, capital and consumer goods to introducing advanced technology and software services to local companies.
"This is also part of the efforts to balance import and export volume," he said. "In the long term, these high-end products will help small and medium-sized enterprises in China grow faster."