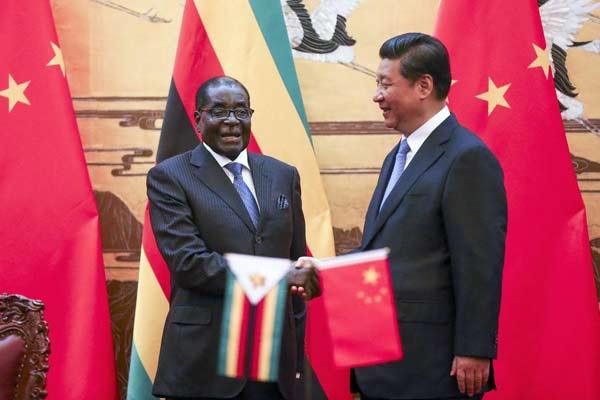 Zimbabwe's President Robert Mugabe (L) and his Chinese counterpart Xi Jinping shake hands during a signing ceremony at the Great Hall of the People in Beijing, Aug 25, 2014. [Photo/Agencies]
Editor's note: President Xi Jinping's signed article was published in newspapers The Herald and The Sunday Mail on Saturday.
The article went public as Xi is scheduled to pay a state visit to Zimbabwe from Tuesday to Wednesday at the invitation of his Zimbabwean counterpart, Robert Mugabe.
Here is the full text of the article titled Let the Sino-Zim flower bloom.
Let the Sino-Zimbabwe flower bloom
H.E. Xi Jinping Chinese President
At the invitation of President Robert Gabriel Mugabe, I will pay a State visit to Zimbabwe on December 1-2. I am very much looking forward to this first visit to Zimbabwe.
Though I have not been to Zimbabwe, I am no stranger to this beautiful country and its people. Zimbabwe boasts a time-honoured history, splendid civilisation, picturesque scenery and rich resources. And more importantly, the Zimbabwean people are hardworking, creative, courageous and strong-willed.
The Zimbabwean people have all along been committed to upholding national independence and dignity and building a stronger African continent through unity. They have persevered in their endeavour despite the test of time and setbacks, just as the stone-carved Zimbabwe Bird at the ruins of Great Zimbabwe. In fact, it is headwind that makes birds fly even higher.
China and Zimbabwe, in spite of the vast distance between them, have maintained a traditional friendship that is deep and firm. During the national liberation struggle in Zimbabwe, the Chinese people steadfastly stood behind the Zimbabwean people as comrades-in-arms. I was touched to learn that many Zimbabwean freedom fighters who received training from the Chinese side both in China and at Nachingwea camp in Tanzania can still sing songs such as the "Three Rules of Discipline and the Eight Points for Attention".
It was on the very day that Zimbabwe gained independence, April 18 1980, that our two countries established diplomatic relations. Over the past 35 years, our two peoples have stood with each other in rain or sunshine, and enjoyed strong friendship and fruitful co-operation. In August last year, President Mugabe paid a successful State visit to China. The two sides agreed to be good partners, good friends and good brothers, who treat each other as equals and support each other for win-win co-operation and common development. This agreement has provided a vital guidance for the growth of China-Zimbabwe relations.
China is now Zimbabwe's fourth largest trading partner and the biggest source of investment. Projects funded and undertaken by China, such as the expansion of the Victoria Falls Airport and Kariba South Hydropower Station and telecoms transformation of TelOne, will give a strong boost to infrastructure development in Zimbabwe.