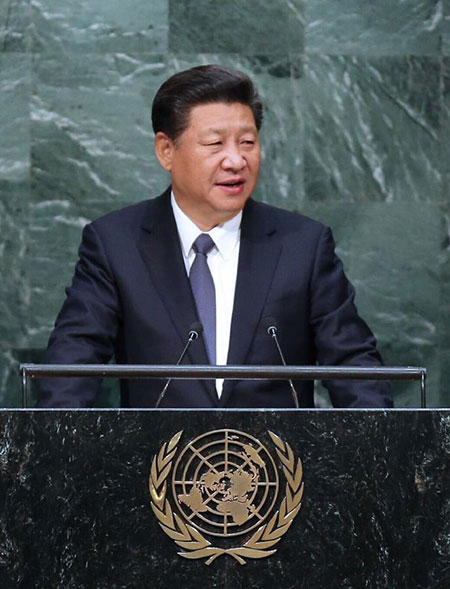 Chinese President Xi Jinping addresses the United Nations Sustainable Development Summit 2015 at the UN headquarters in New York, Sept 26, 2015. [Photo/Xinhua]
During his visit to the US in September, President Xi Jinping announced that China would set up a China South-South Climate Cooperation Fund to provide 20 billion yuan ($3.1 billion) to help developing countries tackle climate change.
Developing countries, especially the partners in the South-South Cooperation, will be the beneficiaries of the Fund.
As the world's largest developing country, China has been an active advocate and participant of South-South Cooperation. Under the framework of the Cooperation, China has provided assistance to developing nations through the sharing of development experience and professional knowledge, including the assistance on climate issues.
In 2011, China launched a three-year climate change cooperation project to support the least developed countries including the small island countries and some African countries to tackle climate issues.
China has also signed a memorandum of understanding with more than 10 countries such as Grenada, Ethiopia, Maldives, Samoa and Uganda and has provided assistance to them by giving them energy-saving and low carbon products and capacity-building trainings.
UN Secretary General Ban Ki-moon said that the China South-South Climate Cooperation Fund will bring benefits to the world's poorest and most vulnerable people.
Rotating President of G77 and South African President Zuma spoke highly of China's initiatives as "practical and concrete".